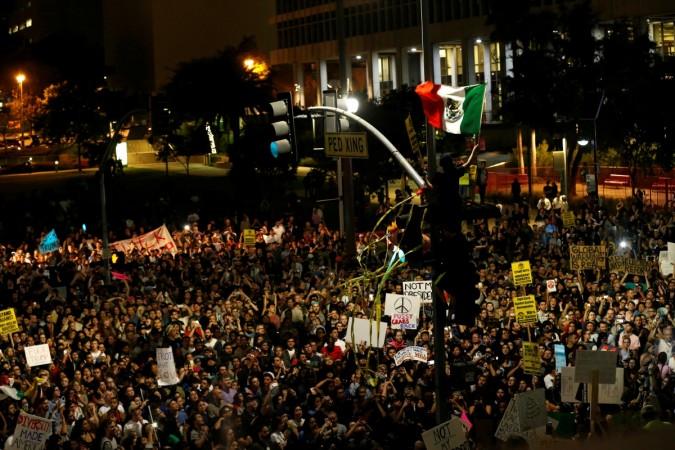 Thousands of Americans took to the streets in key cities, including New York, Chicago, Atlanta, Los Angeles and other cities across the country to protest against the new President-elect Donald Trump on Wednesday night. The protestors chanted "Not my President Elect," as they blocked traffic walking with banners.
They had to be dispursed using tear gas shells by the Los Angeles Police Department in the city. More than 100,000 people had joined the protests in New York City.
Actor Mark Ruffalo, singers Lady Gaga and Cher also joined protestors earlier. Discontented citizens also thronged outside the Trump Tower in New York City and Chicago.
The citizens gave expression to their fears by protesting on large scale as they are wary of the new leader who has been portrayed as sexist, racist and has been accused of favouring only whites in the country.
4:25 am EST:

#NotMyPresidentElect protest in Portland, Oregon pic.twitter.com/MXBvHTLAOx

— K I P R O N O (@TheMfanyiKazi) November 10, 2016
4:05 am EST:

URGENT.

Muslim student brutally assaulted by two Trump supporters in Louisiana. Hijab ripped off. Day 1. pic.twitter.com/QkCAaZE7BT

— Shaun King (@ShaunKing) November 10, 2016
3:53 am EST: Police cleared protestors off the 18th and Broadway street in Oakland with teargas.
3:50 am EST: Protests had earlier taken place in the capital of Georgia, Atlanta. The state had voted for Donald Trump.
3:40 am EST: Protests had also taken place in Austin, Texas and Portland, Oregon earlier on Wednesday night. In Portland, people had protested chanting, "In Portland they're chanting 'this is what democracy looks like."
3:35 am EST: Protestors on Washington Street, San Francisco backed off after SFPD launched tear gas.
3:30 am EST: At least 100,000 people have now gathered in New York City to protest against Trump.
3:20 am EST:

you will not silence us. we will be heard. he is not my president #dtla #notmypresident pic.twitter.com/6HvELaD9S1

— ㅤ (@Iitqueen) November 10, 2016
3:15 am EST: The LAPD diffused the situation at the 101 freeway and protestors are drawing back to the city hall.
3:10 am EST:

Out here in L.A. they are burning up Donald Trump Piñatas... #LOL It's going down out here tonight #TrumpProtest #NotMyPresident pic.twitter.com/Jce179aW76

— Tariq Nasheed (@tariqnasheed) November 10, 2016
2:56 am EST: People backing off at 101 freeway in Los Angeles after cops advance. Thousands had blocked the freeway earlier.
At the Los Angeles City Hall, a protestor had climbed a bus and spray-painted "f&?! Trump" on to the windscreen.