The lynching of Junaid Khan, a 15-year-old Muslim boy, in a Mathura-bound train last week triggered massive and widespread protests across the country with people taking to the streets holding a common banner 'Not In My Name'. Thousands of people gathered at several locations across India to protest against mob lynching.
Khan was stabbed to death by a mob in Haryana's Ballabhgarh last week. The mob mocked his skull cap and called him a beef-eater after he and his two brothers had an argument with them over train seats. His brothers got injured in the incident while Khan lost his life. The police on Wednesday arrested four accused in connection with the murder.
Thousands of people across cities - Delhi, Mumbai, Kolkata, Pune, Hyderabad, Bengaluru, Kochi, Thiruvananthapuram, Patna, Lucknow and Allahabad - turned up to protest against the mob lynchings holding placards as part of the #NotInMyName campaign. They demanded that the government take strict against mobs of cow vigilantes that are responsible for the killing of innocent Muslims.
Around 5,000 people turned up at Delhi's Jantar Mantar with posters and placards questioning the Narendra Modi-led government's silence over the lynchings. Protesters read out poems penned by Mahatma Gandhi while their posters carried messages symbolising that mob lynchings are examples of "false nationalism."
Mohammad Alim, a shop owner from Guragaon, told CNN-News18 that "these incidents are nothing but a blot on the secular fabric of our country."
"India is my country and why should we live in fear? These attacks show that the government is complicit in these crimes and they must be held accountable. Common folk have no enmity but it's the leaders who are fuelling tension," Alim said.
Several wore T-shirts with "Not in My Name" written across them. Protests held at Mumbai's Carter Road saw people turning up to take part in the demonstration despite heavy rainfall. Huge turnouts were also seen at other cities where the protests took place.
In Patna, residents carried out a silent protest at Kargil Chowk near Gandhi Maidan.
The 'Not In My Name' protests is being led by Gurgaon-based independent filmmaker Saba Dewan, who had initiated the campaign through a post on Facebook on June 24. The protests were initially supposed to be held only at Jantar Mantar in Delhi but when the idea received huge responses on social media from people across the country, the protests spread across several cities as well.
The protests will be held in London, Boston and Toronto on June 29. The organisers said that the campaign seeks to "reclaim the constitution" and "resist the onslaught" on the right to life and equality. They added that the campaign and the protests reflect the "anger and grief" of Indian citizens irrespective of their religious backgrounds.
Politicians, celebrities and other well-known personalities express support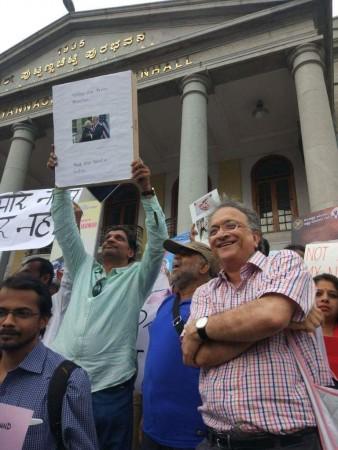 Leaders from the Aam Aadmi Party (AAP), including Delhi Deputy Chief Minister Manish Sisodia and Ashutosh, were seen at the protests held in Jantar Mantar in Delhi. "I haven't seen such insecurity across the country... I am worried about for my family, society and country...The nation's voice must be heard," Sisodia told Indian Express.
"This cannot go on and on. This is something beyond party politics. Citizens are realising enough is enough," Ashutosh was quoted by Hindustan Times as saying.
Congress leaders Randeep S Surjewala and TS Singh Deo also showed solidarity with the campaign and the protesters through Twitter.
No lynching and certainly #NotInMyName. I condemn it & request other citizens to come forward. This is not the nation we imagined.
Jai Hind

— TS Singh Deo (@TS_SinghDeo) June 28, 2017
The CPI(M) also extended its support to the campaign through its official Twitter handle. "CPIM extends support to the citizens match #NotInMyName against Mob Lynchings by right wing Hindutva forces," the party's Twitter handle said.
Communist Party of India (CPI) leader and MP D Raja also joined the protests at Jantar Mantar. He was quoted by the Indian Express as syaing: "Today there is a protest, it is a political initiative taken by the citizens of the country against the lynching that is going on across the country, against minorities, against Dalits, particularly in BJP-ruled states."
He added: "PM Modi has not uttered a word on the ongoing lynching of Dalits and minorities in the country. Such a killing cannot happen...The Government has to defend our secular right and the constitution. Govt has completely failed... This is a strong message to the Prime Minister and the government, they cannot think that this will go unchallenged."
Historian Ramchandra Guha joined the protests that were held at the Town Hall in Bengaluru. The India branch of Amnesty International also pledged support to the campaign through Twitter.
Several actors, including Konkana Sen Sharma, Ranvir Shorey and Kalki Koechlin, from the Hindi film industry also turned up at the protests in Mumbai while others pledged support through social media.