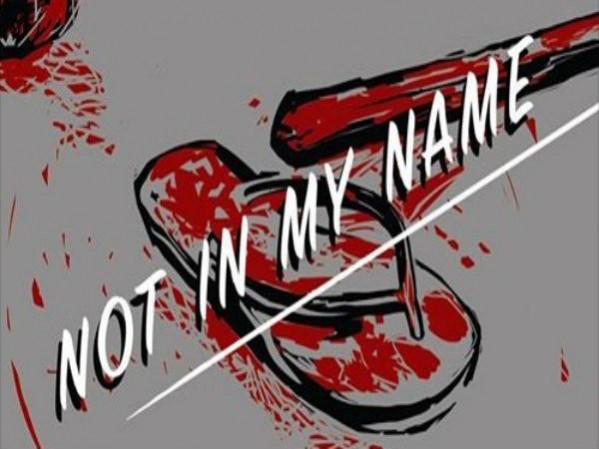 The recent incidents of mob lynching in India have given rise to a new campaign -- 'Not In My Name'. Silent protests are being carried out in various parts of the country. And the emerging reports indicate that they are likely to continue for a week.
It all started after filmmaker Saba Dewan took to Facebook asking people to join in a protest march. It was after 16-year-old Junaid was killed by a mob on a Mathura-bound train due to a scuffle over seats. Later, a senior citizen was also thrashed and his house was set on fire by a mob after a dead cow was allegedly found outside his house near Ranchi.
The post became viral, and soon #NotInMyName started trending on social media. People in huge numbers showed support towards the campaign, and that reflected in the protest march as well. The demonstrations are supposed to be carried out in New Delhi, Kolkata, Hyderabad, Thiruvananthapuram and Bengaluru.
Social media, especially Twitter, is being flooded with tweets, pictures and videos about the 'Not In My Name' campaign. While many have been supporting the campaign, many others are against it. Twitterati has a mixed response on the entire issue.
Supporters of the campaign have been opining that mob lynching by 'cow vigilantes' is completely unacceptable and it is against the democratic set-up of India. Many have been claiming that the apparent silence of the Narendra Modi government in the issue is further making it obvious that the culprits are being backed by the Bharatiya Janata Party.
On the other side, Modi supporters have been asking the protestors why they remain silent when Indian Army men get lynched by the mob, adding that it is not that only Muslims are being killed in the country. However, the leaders of this campaign have clearly stated that this movement is against the practice of mob lynching, irrespective of religion.
Nevertheless, the campaign has been receiving a huge response on social media. While varied responses have been coming on Twitter, many have been changing their profile picture to show their support for it. Many Bollywood celebrities and well-known personalities have also been sharing their views on #NotInMyName campaign. Check some of the responses of prominent figures along with pictures and videos from the protests.
People should stop using religion as a supplement for your own aggression. #NotInMyName

— Sonam Kapoor (@sonamakapoor) June 28, 2017
There are some wild animals disguised as humans among us. They're the ones opposing the silent protest against mob lynching. #NotInMyName

— Shirish Kunder (@ShirishKunder) June 28, 2017
Protest like #NotInMyName are very important because it's not just about minorities. Fascist start from minorities but finish with moderates

— Sameer Khan (@SamKhan999) June 28, 2017
#NotInMyName;not while we hv a voice;not till we rmbr the sacrifice of our greatest generation who won us freedom;not till we win India back

— Krishan Partap Singh (@RaisinaSeries) June 28, 2017
What is #NotInMyName ? Some annual parade of people who still believe in ghosts? Time to identify the elites who no one listens to. Anymore.

— Vivek Agnihotri (@vivekagnihotri) June 28, 2017