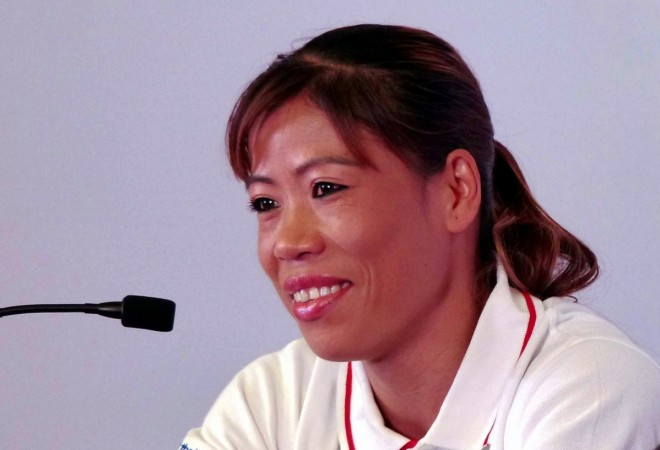 Indian boxing star Mary Kom still hasn't made up her mind on when she will hang up her gloves. The 33-year-old Manipuri had earlier revealed that the Rio Olympics 2016 would be her final participation in an international event.
Mary Kom, unfortunately, couldn't qualify for the sporting event at Rio de Janeiro this time as she couldn't make the best use of the final boxing qualifier event of the Olympics last month -- the World Championships in Astana.
There were even talks that the Boxing Federation of India was contemplating putting forward an official request to the AIBA (International Boxing Federation) to give a wildcard entry to the five-time women's amateur boxing champion. However, all hopes were dashed after AIBA spokesman Nicolas Jomard revealed that no wildcard entries would be provided for the boxing events in the Rio Olympics.
With the verdict out, is Mary contemplating retirement from the sport now? "It is very painful [not to qualify for Olympics 2016]," the bronze medallist in the 2012 London Olympics told Reuters. "The thing about the training time, the schedule, the struggle, three-four months away from the family. So all the hard work I would say has been wasted.
"I have not yet decided [on retirement]. Maybe the plan can change. I have not announced whether I will retire or not."
An inspiration to many, the star pugilist also mentioned doing her workouts on a regular basis in an effort to keep herself fit. "I am still doing my workouts earnestly, and still have high hopes. I am keeping up my physical fitness," Mary Kom added to the Press Trust of India.
Just one Indian boxer -- Shiva Thapa -- has qualified for the Olympics this time around.