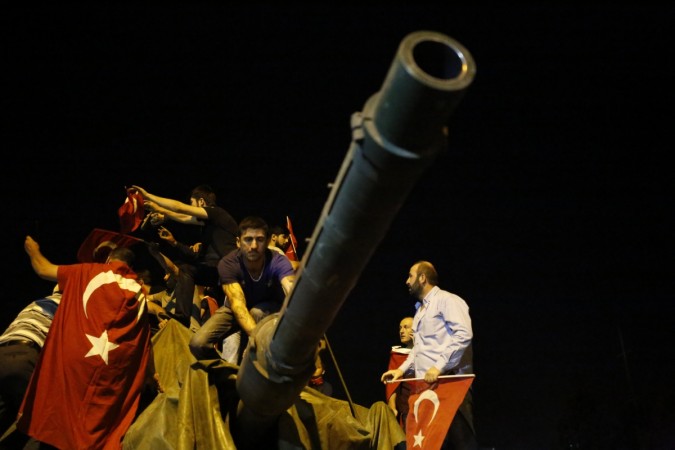 The Idyllic nation of Turkey, which is straddled between Eastern Asia and Europe, is not new to military coup. The attempted military coup that took place on Friday through Saturday was not the first time; there have been several coup, which date back to the 1960s.
On Friday, the Turkish military made an attempt to overtake the country, which left more than 90 people dead and over 1,000 injured in Ankara and Istanbul. Clashes had erupted between a faction of the military and pro-government supporters.
As many as 754 soldiers have been arrested since then.
A helicopter, which was being operated by soldiers who were part of the coup, was reportedly shot down over the capital city Ankara.
Turkish Foreign Minister Mevlut Cavusoglu said the coup attempt failed due to the Turkish people, who protested against it.
"Turkish armed forces was not involved in the coup attempt in it's entirety. It was conducted by a clique within the armed forces and received a well-deserved response from our nation," Cavusoglu said in a statement, BBC reported.
Let us take a look at the major military coups which have taken place in Turkey in the last sixty years:
1960
In May 1960, officers and cadets from Ankara and Istanbul war colleges carried out a bloodless military coup. The next day, General Cemel Gursel, who was the commander of land forces, demanded political reforms. He resigned after his demands were turned down. Three former ministers —including the then prime minister Adnan Menderes — were executed and 12 others were awarded life imprisonment.
1971
In the beginning of the 1970s, the Turkish economy was stagnating. Following months of strikes and fights between leftists and nationalists, the military issued a warning to the government to restore order. Suleyman Demirel, who was the then prime minister resigned. During the time, the military did not rule directly and martial law was established in various provinces across the country until 1973.
1980
Even as the martial law ended in 1973, instability continued in Turkey. Until the year 1980, Turkey had changed prime ministers 11 times. Thousands of people were also assassinated during that time. On Sept. 12, 1980 a senior commander of the army carried out a coup. Leading politicians were arrested. The parliament, trade unions and political parties were dissolved. Once the constitution was suspended, a five member National Security Council took over and gave unlimited powers to the military commanders.
1997
On June 18, 1997 prime minister Necmetiin Erbakan, was criticised by opponents as being a danger to Turkey. During the same year, the Turkish military issued a series of recommendations to the government, which were accepted. Erbakan agreed to an eight year education programme in schools and headscarfs were banned for girls at colleges. However, Welfare party which was elected to power in 1995 was shut down in 1998 forcing Erbakan to resign.