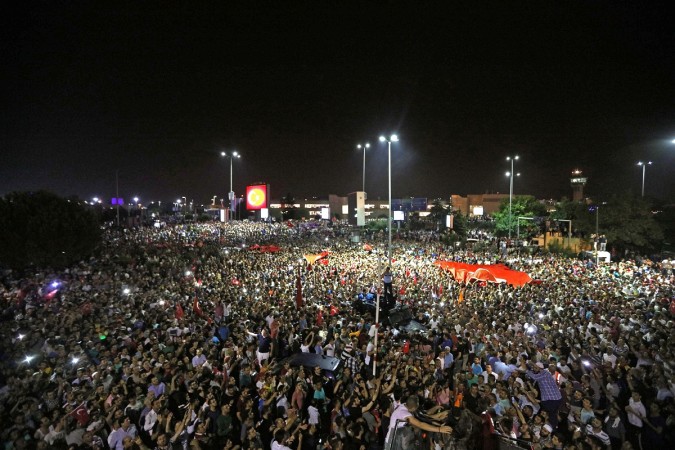 19: 51 pm IST: Turkey and U.S. are at loggerheads on Islamic preacher Gulen's extradition.
19: 47 pm IST: Any country that stands by cleric Gulen will be at war with Turkey, the Turkish prime minister said.

19:45 pm IST: Turkey's Incirlik Air Base has been sealed and the power cut off, says U.S. consulate. It has stopped anti-ISIS coalition airplanes from passing as well.
4: 46 pm IST: Prime Minister Binali Yıldırım declared the 15th of July as a public holiday in celebration of democracy.
4:44 PM IST: "There are 148 Indian children and 38 officials in Trapzon #Turkey. They are all safe. The games are on. They will start returning in batches from 18th July," Minister of External Affairs Sushma Swaraj tweeted on Saturday. The children are there for the World Schools Sports Meet.
4:43 pm IST: British Airways have cancelled all flights to and from Turkey today.
3: 51 pm IST: At least 161 people were killed, while another 1,440 were wounded, Turkish Prime Minister Binali Yildirim said.
1:36 pm IST: At least 90 people died and more than 1,000 people were injured in Istanbul and Ankara in an attempted military coup.
12:03 pm IST: At least 60 people died and 1,000 have been hospitalised in Istanbul and Ankara after the attempted military coup.
More than 30 senior Army officers were suspended, CNN reported.
10:47 am IST: As many as 754 soldiers were arrested after a faction within the Turkish military attempted to carry out a coup that eventually failed, according to Anadolu news agency.
10: 21 am IST: President Recep Tayyip Erdogan on Saturday said that the coup was over and the military was in control.
Soldiers had earlier surrendered en masse and left their posts at the Bosphorus Bridge in Istanbul, where roads were blocked in the first signs on Friday night that a military coup was underway.
10:18 am IST: A new acting Army chief was appointed after the coup in Turkey that lasted for hours and led to the death of 42 people. Erdogan blamed U.S.-based Islamic cleric Fethullah Gulen, who is in exile, for the chaos in the Middle Eastern country.
"Now I'm addressing those in Pennsylvania. The betrayal you have shown to this nation and to this community, that's enough. If you have the courage, come back to your country. If you can. You will not have the means to turn this country into a mess from where you are," Erdogan was quoted as saying by CNN.
10:14 am IST: A video of police arresting soldiers who had taken over CNN-Turk office surfaced.
10: 00 am IST: Visuals from Bosphorus bridge.
9: 41 am IST: Soldiers were seen surrendering to police on Bosphorus Bridge in Istanbul, Haberturk reported.
9:24 am IST: A military helicopter allegedly operated by soldiers who were part of the coup was shot down in Ankara. The Turkish president had earlier declared a no-fly zone. The helicopter had fired at the offices of state satellite operator Turksat in the capital Ankara on Saturday, CNN Turk said.
9:04 a.m. IST: "A minority within the armed forces has unfortunately been unable to stomach Turkey's unity," Erdogan said after reappearing from an undisclosed location. "What is being perpetrated is a rebellion and a treason. They will pay a heavy price for their treason to Turkey," he said.
8:55 a.m. IST: Turkey's President Recep Tayyip Erdogan returned to Istanbul amid a failing military coup on Saturday morning.
8:48 am IST: Istanbul's Ataturk Airport was reopened and news channels have begun operations after being shut down temporarily.
President Recep Tayyip Erdogan has called the coup "treason" and said he will not compromise.
8: 40 am IST: Turkey's president blames coup on cleric-in-exile Fethullah Gulen but the Gulen Group denies involvement, according to LA Times.
8:39 am IST: Bomb attacks on the parliament are ongoing, senior officials in Turkey were quoted as saying by Reuters India.
Turkey's military attempted to overtake the country, which has an elected president. Gunfire, tanks, and protestors were reportedly on the streets and it was unclear who was in control. The military was at loggerheads with supporters of President Tayyip Erdogan.
Television channel NTV quoted Ankara's prosecutor's office saying that at least 42 people have been killed in the Turkey on Saturday after the military attempted the coup. The military reportedly opened fire on civilians.
Hundreds of people have been detained for attempting the coup, Turkish Prime Minister Binali Yildirim said.
Turkish PM Yildirim said that he received reports that a general among coup plotters was killed.