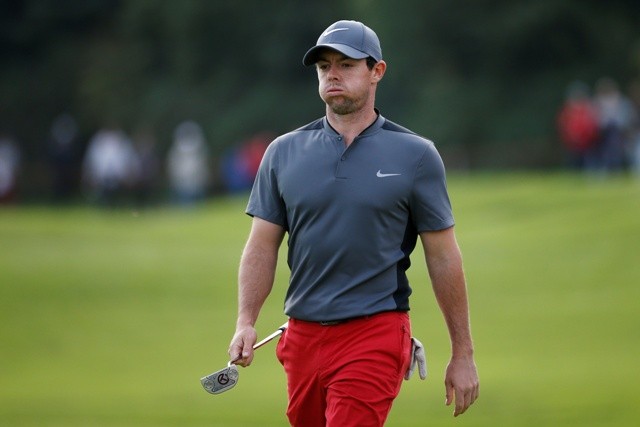 Anything for a game of golf with the 45th President of the United States of America, Donald Trump!
After legendary Tiger Woods (who is just a mere shadow of the golfer that he was, at the moment) joined the controversial President for a round of golf last December, it was the Northern Irishman and former World No 1 Rory McIlroy's turn now to join Trump.
Here's what the 27-year-old former partner of tennis hottie Caroline Wozniacki, did to impress Trump: McIlroy gave his important rehab schedule a miss to play 18 holes with the US President. The event took place at the Trump International Golf Club in West Palm Beach, Florida.
Nothing unexpected, McIlroy's antics called for the worst possible criticisms on social media, with mostly Irish journalists, absolutely slamming the star golfer's judgement!
According to a Daily Mail report, Trump has spent six of his 30 days in office on the golf course itself, taking a dig at both the US President and the golfer.
McIlroy even shared a cart with Trump during their play on Sunday.
McIlroy's countrymen were the least interested!
Idea for a TV program: "Tee with Tyrants". Rory McIlroy travels the world playing golf with various despots.

— Fachtna Ó Ceallaigh (@Fachtna_Kelly) February 20, 2017
I'm sure there's a reasonable explanation for Rory McIlroy's round of golf. #Trump was probably asking him how to improve his lie.

— Fachtna Ó Ceallaigh (@Fachtna_Kelly) February 20, 2017
What's next for McIlroy
In an effort to calm things down, McIlroy has decided to tee off with Manchester United legend Ryan Giggs during the BMW PGA Championship in Celebrity Pro-Am. The golf match is scheduled for the last week of May at Wentworth Club in Surrey, United Kingdom.
"There are few bigger Man United legends in the history of the Club than Giggsy so to be able to tee it up alongside him for the pro-am at the BMW PGA Championship is going to be awesome," said McIlroy. "He is one of those players who is hugely respected in sport for everything he achieved at the highest level."
"Ryan's professionalism and ability gave him a Man United career that was almost as long as a pro golfer's career which is incredible. Not many sportsmen or women can say they were at the very top for decades but he is one of the special few. Hopefully I can give him a bit of help with his golf!" he added.