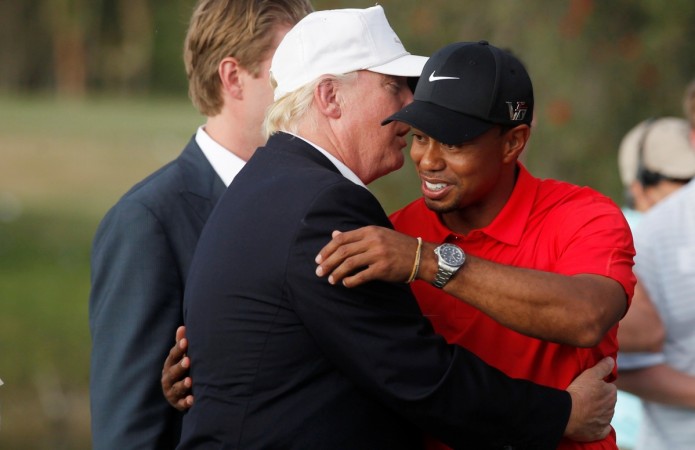 Donald Trump, whose handicap in golf is listed as 2.8 (according to Golf Digest), played alongside Tiger Woods at the Trump International Golf Club in Florida on Friday. The outcome of the foursome golf match...well, we know not! What we know is Woods, the former World No 1 in golf, has been doing some crazy stuff on Twitter ahead of Christmas 2016.
Trump and Woods played over a total of 18 holes.
Is this yet another ploy by Trump to better his relationship with people from the golfing circuit. The US President-elect, who owns a lot of golf courses around the world -- in Scotland, Los Angeles, New Jersey and more -- got severely criticised from fellow golfing personalities after Trump's well...misconstrued statements and comments, if we put it that way!
According to Agence-France Presse, the Grand Slam of Golf tournament from Trump National Los Angeles was discontinued by the Professional Golfers' Association (PGA) of America after Trump used his not-so-sweet words on the Mexican immigrants.
Also, the US Golf Association has been asked to move the US Women's Open from Trump National in New Jersey, in light of Trump's statements.
As for Woods, well his share of controversies doesn't end as well. In February 2013, Woods took part in a golf match with US President Barrack Obama at the Treasure Coast in Florida. Believe it or not, as per a US Government Accountability report, that gig cost nearly $3.6 million of US taxpayers' money.