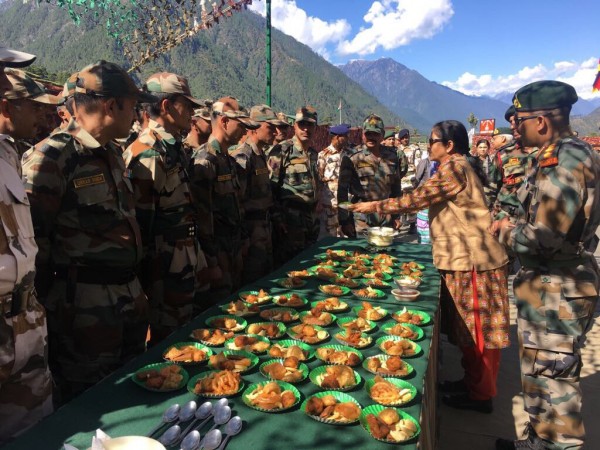 Just a day after Defence Minister Nirmala Sitharaman visited Arunachal Pradesh for the first time, China has raised objections to her trip, terming her tour of the "disputed area" as not conducive to the peace and tranquillity in the region.
Sitharaman visited forward army posts in remote Anjaw district of Arunachal Pradesh bordering China on Sunday along with General Officer Commanding-in-Chief of Eastern Command Lt. Gen. Abhay Krishna and a few other senior army officers.
China not happy with Sitharaman's visit
However, Sitharaman's visit, interaction with the troops at forward army posts at Kibithu in Anjaw district and her praises for the military personnel for their dedication and service did not go down well with China.
"As to Indian Defence Minister visit to Arunachal Pradesh, you must be very clear about China's position," Chinese Foreign Ministry spokesperson Hua Chunying told reporters.
She clarified that the visit was not welcome as the area was a disputed zone for India as well as China.
"There is a dispute on the eastern section of the China- India boundary. So this visit by the Indian side to the disputed area is not conducive to the peace and tranquillity of the relevant region,' said Chunying.
As china claims that arunachal Pradesh is a part of South Tibet, it doesn't welcome the frequent visits of Indian leaders and top ministers in this north-eastern state.
Dialogue to resolve conflict
Chunying also stressed on the need for India and China resolving the disputes through diplomatic discussion.
"Hope India will work China for the shared goal, seek a solution acceptable to both sides and accommodate our concerns in a balanced way," she said.
China's earlier reaction to Sitharaman's Sikkim visit
However, earlier when Sitharaman visited Sikkim recently, China had welcomed it saying that the Indian Defence Minister's one-day visit to the Sino-Indian border and her brief interaction with the People's Liberation Army (PLA) of China on October 7 had sent warm signals to them.
Sitharaman had greeted the Chinese soldiers with Namaste and even explained the meaning of the greeting to them.
"The greeting sent a goodwill signal towards mending bilateral ties and putting relations back on track toward normality," Qian Feng, an expert at the Chinese Association for South Asian Studies was quoted as saying by Global Times.