Defence Minister Niramala Sitharamana's one-day visit to the Sino-Indian border in Sikkim on Saturday and her brief interaction with Chinese soldiers has won her many favourable reactions from the Chinese media.
China urges India to abide by historic 1890 UK border treaty
Sitharaman's gesture hailed
Chinese experts from various educational institutions have appreciated Sitharaman's initiative to advance goodwill.
"The greeting sent a goodwill signal towards mending bilateral ties and putting relations back on track toward normality," Qian Feng, an expert at the Chinese Association for South Asian Studies was quoted as saying by Global Times.
The defence minister's friendly gestures also went down well with the director of the Institute of South and Southeast Asian and Oceania Studies in Beijing, Hu Shisheng.
"Although leaders of the two countries are exploring more cooperation, the focus and priority of the two countries is to avoid friction and conflict," said Shisheng.
"I am happy to see this peaceful scene," wrote a blogger named Zhui Zhui.
'A brave woman'
A user on Sina Weibo, the Chinese equivalent of Twitter, even commended Sitharaman's handling of border issues.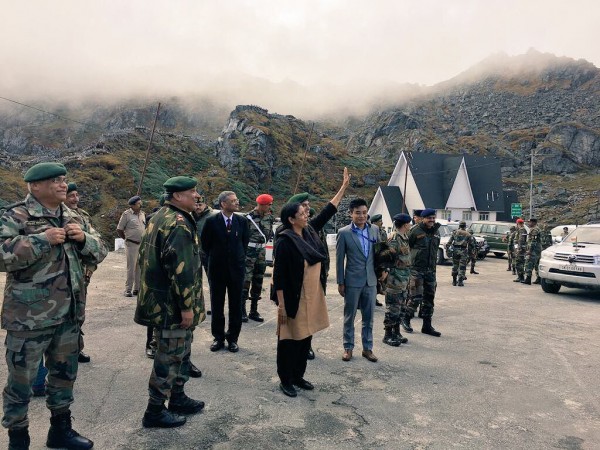 "The Indian woman defence minister directly faced the tough border problem. Such a brave woman," the user was quoted as saying by a leading English daily.
Another source was quoted as saying by the Times of India that Sitharaman was indeed brave as there is no woman in the senior ranks of the Communist Party and government in China.
Meanwhile, Global Times struck a positive note on the Indian Defence Minister's gesture of teaching the Chinese soldiers the meaning of "Namaste" — the Indian festure that sees both palms brought together in front of the face to signify a greeting.
"Sitharaman's greeting to the Chinese soldiers conveys her hope for peace on the Sino-Indian border and unwillingness to see a new standoff. This is commonly regarded as the attitude of the Narendra Modi government," said a Global Times report.
The state run paper also said Indians must overcome the paranoia that suggests that India is strategically thwarted and threatened by Beijing.