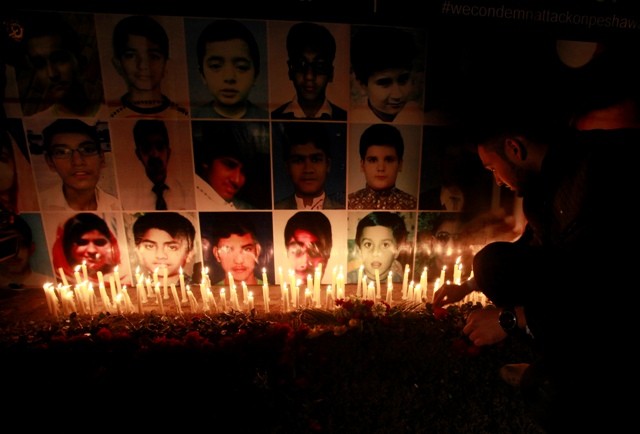 Defiant students refused to be scared as the battered Army Public School opened its doors to them once again. The Peshawar school, where Taliban militants killed 150 people, including 134 students in December, reopened on Monday.
"I am not afraid and no force can stop me from attending my school. I will go and will tell the attackers, 'we are not afraid of you'," AFP quoted Zahid Ayub, 16, as saying. The teen had sustained minor wounds during the attack.
Students in green uniforms and their family members were seen returning to the school early on Monday morning --- a place flooded with the blood of innocent children on 16 December.
Students displayed immense strength and resilience in returning to the school where dead bodies lay strewn across the halls and corridors after crazed fanatics rushed from room to room randomly shooting at any human they saw in before them on 16 December 2014.
Wearing suicide vests and Pakistani army uniforms, nine militants burst into the building around 10am (local time) on that day. At least 500 pupils aged between 10 and 20 years were inside the building when the attack began. When the gunfight between the Taliban and Pakistani forces intensified, at least three of the militants blew themselves up, instantly producing several charred bodies.
Sixteen-year-old Shahrukh Khan, who played dead in the school's auditorium, was quoted by AFP on Monday as saying: "I have lost 30 of my friends. How will I sit in the empty class? How will I look to their empty benches? My heart is broken. All the class fellows I had, have died. In my heart, I do not want to attend school anymore."
At least 20 soldiers stood guard at the school's main entrance while an airport-style security gate was installed at the front, the Telegraph reports.