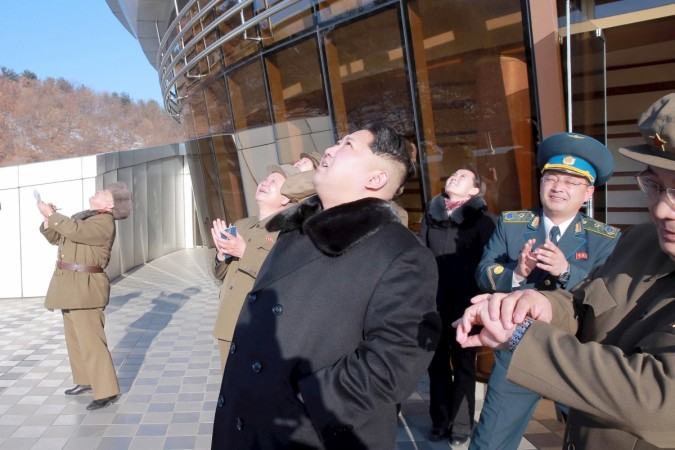 North Korea's controversial rocket launch in February, ostensibly to put a satellite in space, was a disguised attempt to test a long-range ballistic missile test, South Korea military experts have said after reportedly analysing debris from the day of the launch. The report comes as confirmation of the fears raised by other countries earlier.
According to the analysis of the debris that fell in waters close to South Korea during the Feb. 7 launch, the rocket did not have the necessary mechanism to keep the satellite safe during its flight, Yonhap News Agency reported.
"The fairing of the long-range missile North Korea launched in February did not have any protection cover to protect the satellite from shock, bumps and heat at all," a military expert was quoted as saying.
The Kim Jong Un-regime had claimed the rocket launch was meant to put a satellite in orbit, but it was seen as a ballistic missile technology test, which Pyongyang is banned from using under the United Nations' sanctions. The technology used to launch a payload into orbit is similar to that of a launch of a nuclear armed intercontinental ballistic missile. Concerns have also grown that North Korean missiles could also reach the United States.
Soon after the launch, the earth observation satellite that North Korea calls Kwangmyongsong-4, or "Shining Star," was reported to have been "tumbling" in space with no transmission signals detected.
"The result shows that the North's long-range missile launch was not for the development of satellites but for the development of ballistic missiles," the expert said.
The rocket launch, which came the week after North Korea conducted a nuclear test in January, invited the heaviest set of sanctions against the hermit nation from the United Nations.
However, the Kim Jong Un-regime has been in defiance, and is now believed to be preparing to conduct a fifth nuclear test ahead of a rare ruling party congress announced for May 6.
South Korean President Park Geun-Hye on Tuesday said North Korea was believed to have "completed preparations" for another nuclear test, according to AFP.