No one probably made as much headlines in 2017 as North Korea and its leader Kim Jong-un. And it now looks like things aren't going to change in 2018 either, if Kim's New Year message is any hint.
Addressing the country on New Year's Day that was broadcast on state television, Kim said that the United States will never be able to go to war with the nation as North Korea is capable of destroying the US with its nuclear weapons. He also said that a nuclear button is always on his desk.
"The entire United States is within range of our nuclear weapons, and a nuclear button is always on my desk. This is reality, not a threat," Kim said during a televised New Year's Day speech, according to Reuters.
If this was not enough to provoke US President Donald Trump, who has been vocal about how North Korea has been flouting nuclear regulations, Kim also outlined his administration's plans for 2018 and it looks like the new year too may see some missile tests.
"This year we should focus on mass producing nuclear warheads and ballistic missiles for operational deployment," he added. "These weapons will be used only if our security is threatened."
The hermitic nation has already been facing several sanctions from the United Nations and the US after it tested a hydrogen bomb on September 3. While the sanctions were meant to cripple the country's missile programme, Kim seems in no mood to back down and recently even tested the highest-ever intercontinental ballistic missile that landed in the sea in Japan's economic zone.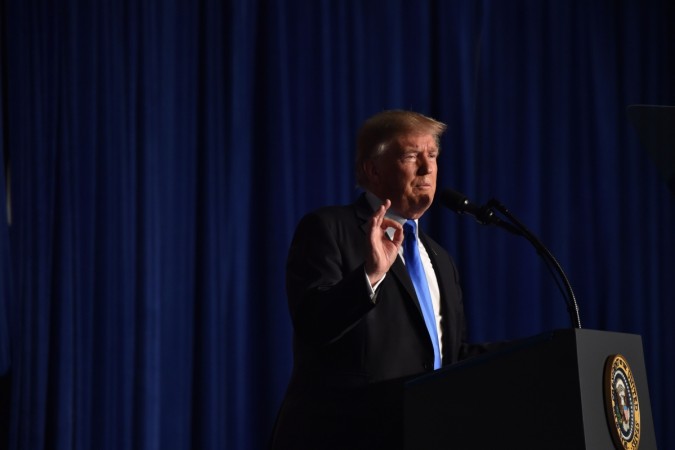 After Kim's address, Trump, who has been at Mar-a-Lago, his resort in Florida was asked what he thought of the comment, but he simply said: "We'll see, we'll see." His office is yet to comment on the issue.
While Kim may have taken a sly dig at the US during the speech, he seems to have made an effort to warm up to South Korea and said he was "open to dialogue" with Seoul. He said that the military tensions on the Korean peninsula must be reduced and the two nations should work on it together.
"When it comes to North-South relations, we should lower the military tensions on the Korean Peninsula to create a peaceful environment," Reuters quoted Kim as saying. "Both the North and the South should make efforts."
He also said that he may send a delegation to South Korea for the upcoming Winter Olympics. "North Korea's participation in the Winter Games will be a good opportunity to show unity of the people and we wish the Games will be a success. Officials from the two Koreas may urgently meet to discuss the possibility," Kim said.
Even though South believes that this might be a good way to ensure safety at the Pyeongchang Olympics, Seoul still seems to be cautious over the matter and a spokesperson for President Moon Jae-in's office said that they are reviewing Kim's speech.
Many people, viewers as well as sportspersons, have been skeptical about travelling to Pyeongchang, which is just 80 kilometres away from North Korean border. They fear that the reclusive nation might just put their lives at risk any moment.