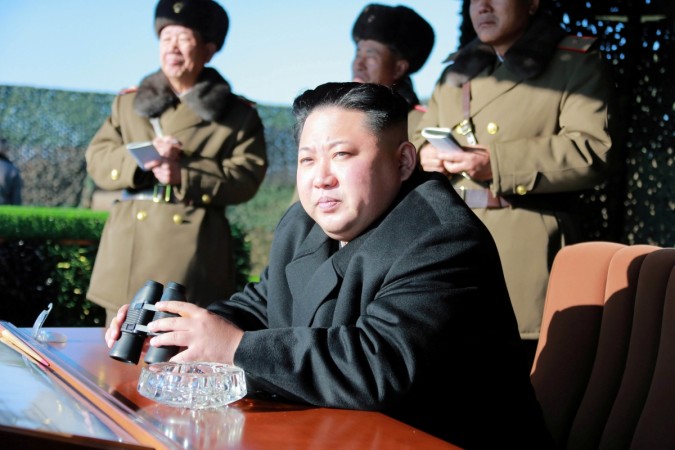 North Korean leader Kim Jong Un on Tuesday promised to give a bigger "gift package" to the United States, after he supervised the test of a new ballistic missile controlled by a precision guidance system, according to the North's official KCNA news agency reports.
North Korea launched a missile on Monday which was equipped with an advanced automated pre-launch sequence compared with previous versions of the "Hwasong" rockets. Hwasong is North Korea's name for its Scud-class missiles. Reports state that Kim has ordered for the development of more powerful strategic weapons.
The test launch of a short-range ballistic missile landed in the sea off its east coast and reportedly was the latest in a series of fast-paced missile tests. North's launch of the missiles is in defiance of international pressure, including the United Nations which has imposed several sanctions on the country considering its increasingly ambitious nuclear and ballistic missiles programme.
The North Korean leader said that the nation would develop more such weapons in multiple phases in accordance with its timetable to defend North Korea against the United States.
"He expressed the conviction that it would make a greater leap forward in this spirit to send a bigger 'gift package' to the Yankees" in retaliation for American military provocation, KCNA quoted Kim as saying.
The US has installed a powerful anti-ballistic missile system called Terminal High Altitude Area Defense (THAAD) in South Korea to shoot down short, medium, and intermediate range ballistic missiles in their terminal phase by intercepting with a hit-to-kill approach. The US has also warned the North saying that it is considering military options if the nation does not put a curb to its nuclear and missile programme.
South Korea on Tuesday said that it had conducted a joint drill with a US supersonic B-1B Lancer bomber on Monday. The North Korean state media had accused the US of staging a drill to practise dropping nuclear bombs on the Korean peninsula.
The US Navy on Monday said that its aircraft carrier strike group is also preparing for a planned drill with another US nuclear carrier in waters near the Korean peninsula, according to Reuters reports. The North has deemed such drills conducted by the US as a preparation for war.