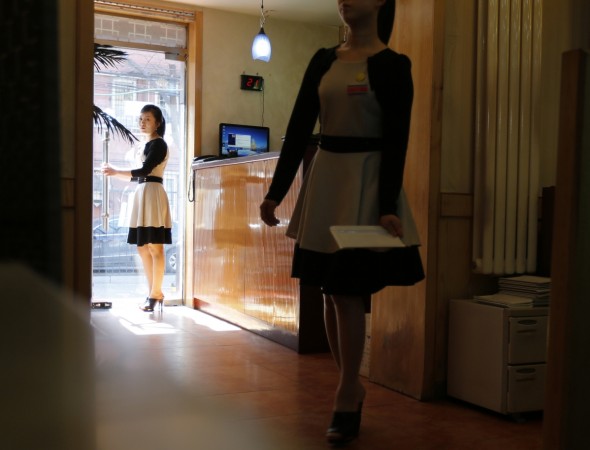 North Korea on Wednesday released a video showing parents of one of the 12 waitresses who had allegedly defected to South Korea earlier this month. Pyongyang accuses Seoul of abducting the 12 waitresses who worked in a North Korean restaurant in Ningbo City, Zhejiang Province, in southern China.
Earlier this month, Seoul said that 13 North Koreans, including12 waitresses and the manager of a restaurant in China, defected to South Korea. The country also said that it had accepted the people on humanitarian basis. However, seven other waitresses of the restaurant accused the manager of tricking the other 12 into abandoning North Korea, according to CNN. The employees of North Korean restaurants abroad are reportedly from families loyal to the regime as the isolated country earns a large part of its income from such eateries.
In the video that was released on Wednesday on North Korea's propaganda website Uriminzokkiri, the parents of the waitress, So Gyong-A, shed tears and demanded the return of their daughter, who they said was "lured" and "kidnapped" by South Korean President Park Geun-Hye "and her clique," according to Agence France Presse.
"Gyong-A, resist strongly until you return to the bosom of our Marshal [Kim Jong Un]" the father was quoted as saying by AFP. The waitress' mother called Geun-Hye the "devil."
The video was also marked as No. 1 indicating that more such videos would be uploaded.
South Korea has maintained that the 12 waitresses came voluntarily amid North Korea's accusations that it abducted or lured the women. South Korea also refused North Korea's offer that it would send the families of the 12 waitresses to its neighbouring country.
The waitresses reportedly shopped for backpacks before their departure for South Korea, Reuters quoted eyewitnesses as saying.
South Korea's National Intelligence Service was quoted as saying by the Chosunilbo that all 20 waitresses wanted to defect, however, seven of them decided against it as their families were back home.
AFP reported that almost 30,000 North Koreans have fled the country so far to escape poverty. Also, China, which has previously sent defectors back to North Korea, confirmed that the 12 waitresses and the manager left with complete documentation from China.