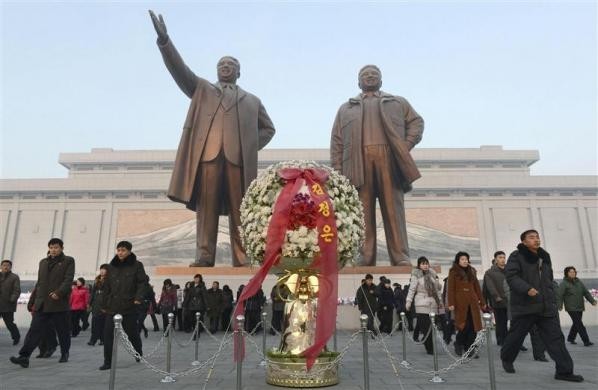 North Korea staged a large memorial in Pyongyang to mark the second death anniversary of Kim Jong Un's father, Kim Jong Il, brushing aside the execution of Chang Song-theak which is looming large as a 'provocative act' in the international community.
In a flamboyant display of authority and power, Kim's father was remembered collectively in a grand ceremony by the reclusive nation's citizens, while his once-powerful uncle - the husband of Kim Jong Il's sister who was executed only a week ago, remains largely forgotten.
As though the dramatic display by the arbitrary North Korean force during Chang Song-theak's execution last week was not enough proof of the regime's devilish undertakings, North Korea's political and military elite publicly pledged their undying loyalty to leader Kim Jong Un on Tuesday, Reuters reported.
The ousting of Chang and his purported execution overlaps a propaganda drive of a power showmanship in North Korea, which remained essential to his father's method of diplomacy before his death in 2011. The younger Kim seems to be inevitably tied to the legacy of the regime that considers the celebration of might and force more spectacular than being a part of a larger world which denounces it.
Official television footage from North Korea showed Kim Jong Un having a majestic centre stage underneath a huge red wall painting of his smiling father.
Reports suggest that the most notable absentee on the stage was his paternal aunt Kim Kyung Hui, Chang's wife, who together were once a symbol of power in the nuclear-armed nation.
The 30-year-old Kim Jong Un came to power when his father died two years ago. His leadership quality has overwhelmingly seemed to emulate his father's policy. He undertook the controversial underground detonation of a nuclear bomb in 12 February 2013 and had earlier launched a long-range rocket successfully, defying the increasingly tightened UN sanctions.
The leader, who also has international condemnation in his 'grip' apart from his power, has pledged to never give up his nuclear ambitions. He also warned of a nuclear war against South Korea and the US over tightened UN sanctions that were imposed for its controversial bomb detonation in February.
In a move that seems to indicate the removal of the only powerful person who could have posed a real threat to his authority, he executed his Uncle Chang and thwarted any obstacles that may have snatched supremacy from his grip. In the nation's 65-year history, North Korea has never removed a person from its circles as powerful as Chang song-theak, an indication that there is a split within the regime.
Now that an increased instability within the country seems to be gaining pace, it remains to be seen how long Kim's preeminence and the usual affairs of showmanship will last.