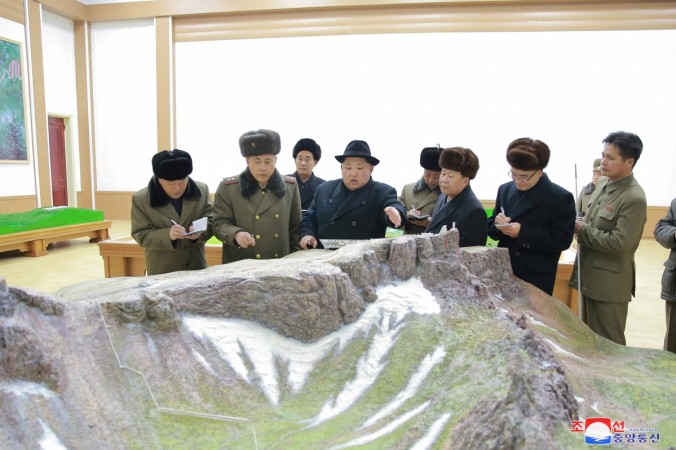 Very few things have made as much news as North Korea in 2017, and things are unlikely to change anytime soon. Be it a war of words with US President Donald Trump or the sanctions imposed by the United Nations, nothing seems to have rattled North Korea and its leader Kim Jong-un. Instead, the reclusive nation is giving fresh jitters to the world as it may be gearing up to launch a new satellite.
Observers have warned that North Korea's new satellite could be a Trojan horse that could aid its future weapon tests, reported South Korean daily JoongAng Ilbo. Named Kwangmyongsong-5, the satellite is said to have cameras and telecommunication devices on it that can send information back to the Earth.
"Through various channels, we've recently learned that the North has completed a new satellite and named it Kwangmyongsong-5," the Joongang Ilbo quoted a South Korean government source as saying. "North Korea's plan is to launch a satellite installed with camera and communication equipment."
Speaking of the reported satellite launch, a spokesperson for the South Korean military said that North Korea may have such plans but as if now there is "nothing out of ordinary" that has been noticed. However, he did say that a close watch was being kept on Pyongyang for any such launch "including the test of a long-range missile disguised as a satellite launch."
Even though reports have said that this could be a satellite launch, many fear that Pyongyang could again be testing ballistic missiles under the pretext of a satellite, reported CNBC. Before this, North Korea is known to have launched the Kwangmyongsong-4, an observation satellite, in 2016.
Meanwhile, the US continues to impose sanctions on the nation, with the latest being on two North Korean officials Kim Jong-sik and Ri Pyong-chol. The duo is said to be the "key leaders" of North Korea's ballistic missile programme. Under the new sanctions, any transaction carried out by Jong-sik and Ri will be blocked and their American assets, if any, will also be frozen, reported BBC.
The UN has also imposed additional sanctions on Pyongyang, which involves a ban on exports of North Korean goods, and its citizens working in other countries being asked to return home within 24 hours among others.
These sanctions come after North Korea test-fired an intercontinental ballistic missile on November 29, which is said to have been the highest one ever. It reached an altitude of 4,500 km and flew 960 km before landing in the sea in Japan's economic zone.