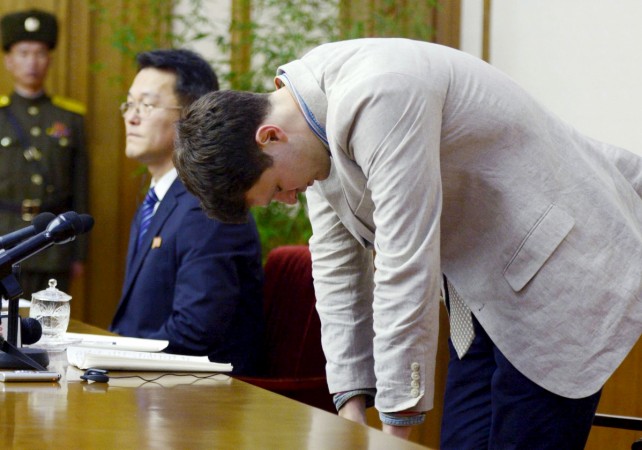 A 21-year-old U.S. student was sentenced to 15 years' hard labour by North Korea's Supreme Court for crimes against the state, Xinhua reported Wednesday. He had admitted to stealing propaganda material last month.
Otto Frederick Warmbier, a University of Virginia student, was arrested Jan. 2 from the customs line-up at the Pyongyang Airport. During a press conference held last month apparently at his behest, the student admitted to the charges against him. In a video released last month, reportedly from the press conference, he is seen crying and reading from a statement.
CNN quoted Warmbier as saying: "I committed the crime of taking down a political slogan from the staff holding area of the Yanggakdo International Hotel...I never, never should have allowed myself to be lured by the United States administration to commit a crime in this country. [sic]
"I wish that the United States administration never manipulate people like myself in the future to commit crimes against foreign countries. I entirely beg you, the people and government of the DPRK, for your forgiveness. Please! I made the worst mistake of my life! [sic]"
Warmbier also said he was challenged by a member of the Friendship United Methodist Church in Wyoming, Ohio, to steal the banner. If successful, he'd be paid $10,000. However, if he was detained, he'd be paid $200,000. The plan had the U.S. government's approval, the Washington Post quoted him as saying.
Veteran U.S. diplomat Bill Richardson met two North Korean diplomats near the U.N. headquarter in New York Tuesday to argue for Warmbier's release.
"I urged the humanitarian release of Otto, and they agreed to convey our request," the former governor of New Mexico told the New York Times.
The court ruling also comes at a time when relations between the U.S. and North Korea are fraught with tension. The U.S. is pressing for fresh sanctions against North Korea for conducting repeated nuclear and missile tests, while North Korea has accused the U.S. and South Korea of preparing to invade the country, after they recently conducted joint naval manoeuvres.