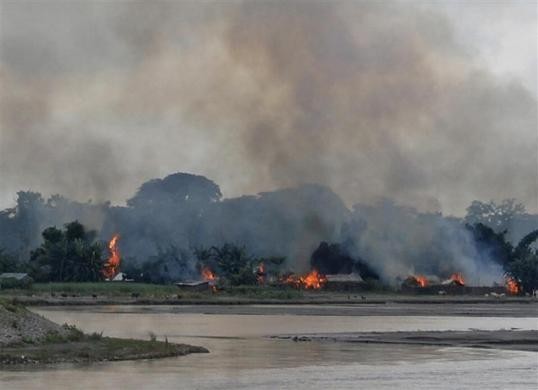 Hundreds and thousands of people from the north-eastern states have fled the southern city of Bangalore to their homes fearing that they would be attacked in the Karnataka state.
More than 6800 north-eastern people living in city rushed to their home towns on Wednesday night after rumours of attacks on the people from the region spread. The exodus of north eastern people from Bangalore city happened just on the heels of the violence between the Bodos and illegal immigrants groups in Assam.
"Two special trains were arranged on Wednesday night and more than 6800 people have left for their home town," a railway official told IB Times on condition of anonymity. "Thousands of people have booked the tickets and if required more special trains will be arranged."
There are more than 250,000 people from north east living in the IT city. A majority of them are students.
"Students from Assam are being frightened away and getting messages telling them to leave for home or face violence," BJP leader Sushma Swaraj said.
"There are rumours that after ramzan there might be some attack. Even our relatives and family members in our hometown are worried for our safety and calling us back for security reasons," Nathaniel Sangma, a 22-year-old north-east student from Bangalore University, told IB Times.
Many people hailing from these regions have reportedly received threats to leave the city or face attacks.
However, the Bangalore police on Thursday slammed reports of any attack saying that students living in the city would be safe.
"Bangalore is quite peaceful and everything is just rumours. We haven't received any such complaints from anyone till now. We have spoken to them and assured protection," VS D'Souza, a nodal officer appointed by the Karnataka police said.
"Police officials are now patrolling areas such as Koramangala, Neelasandra, Ejipura, JP Nagar, Jayanagar, and other areas which have a denser population of north-eastern communities," D'Souza added.
Also, members of the North East Students Association on Thursday met Karnataka Chief Minister Jagadish Shettar, who assured them that they will be given full protection and would not face any threats in Bangalore.
According to Press Trust of India, Shettar in a conversation with Prime Minister and Home Minister said that "there is no untoward incident nor is there any threat to people of northeastern states. I promised that necessary steps would be taken to give protection to these people."
Meanwhile, Assam chief Minister told reporters in Guwahati that he had spoken with Shettar and assured that there is no threat to the community.