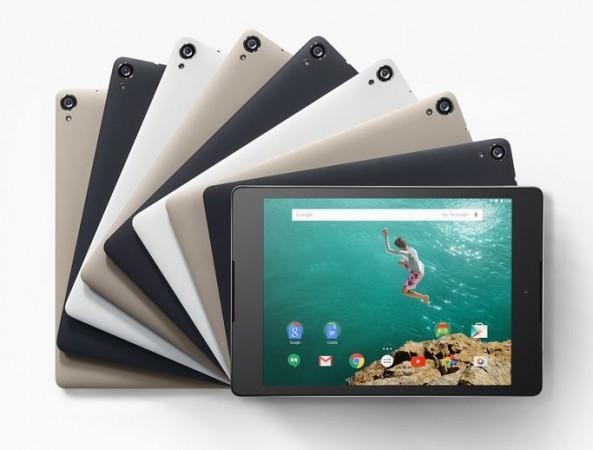 November brought a whole lot of surprises for the gadget world. First, Google released the first-ever Android 5.0 Lollipop-featured HTC Nexus 9 tablet, followed by Nokia announcing its comeback with a surprising Android tablet. And within a couple of days, Jolla released a Sailfish OS-based tablet.
Though Nokia N1 and Jolla Sailfish tablets are not up for sale yet, we compared the two with the HTC Nexus 9 tablet on their significance, features and specification. Here's the verdict:
Display
Nokia N1 and Jolla tablet have similar-sized screens, while the display for Nexus 9 is slightly bigger. Nokia N1 sports a 7.9-inch display with 2048 x 1536 pixels resolution. While HTC Nexus 9 and Jolla Sailfish feature screen resolution similar to N1, they boast of an 8.9-inch and 7.85-inch display respectively.
Processing capability
HTC Nexus 9 tablet features a NVIDIA Tegra K1 SoC on board, integrates a Dual Core 2.3GHz Denver processor and a Kepler DX1 GPU. In comparison, Nokia N1 features slightly more powerful Intel Atom Z3580 SoC with Quad-core 2.3 GHz processor and PowerVR G6430 GPU. The Jolla Sailfish tablet has a 1.8 GHz Quad-Core Intel built processor. While all three processors are capable of 64-bit computing, we feel Nokia N1 is slightly superior in terms of processing capability.
All three tablets come with 2GB RAM memory and 32GB in-built memory. Among them, only Jolla tablet offers memory extension through microSD card. HTC Nexus 9 also offers a 16GB WiFi-only variant.
Camera
Nokia N1 and HTC Nexus 9 both have an 8MP rear camera, while Jolla tablet packs in 5MP. Most of the tablets' rear camera features an aperture capability between f/2.2 and f/2; a 5MP camera image should be good enough for viewing on tablet screen or sharing on social media, but an 8MP camera will definitely take the cake, if offered at a similar price.
At the front, Nokia again sports a slightly more powerful 5MP camera while Jolla has only 2MP and Nexus 9 gives a measly 1.6MP camera. All three are capable enough to cater to VoIP calls through the device, but for clicking selfies a 5MP camera is better any day.
Battery
HTC Nexus 9 stands incomparable in this segment. Its latest Nexus device is powered by a 6,700 mAh battery, whereas Nokia N1 has 5,300 mAh and Jolla comes with a 4,300 mAh battery.
Software
HTC Nexus 9 is the first tablet in the world to feature Android 5.0 Lollipop operating system. The hardware specifications of this tablet also look quite well chosen though it slumps slightly in comparison with Nokia N1. Another great feature of Nexus 9 is that it integrates a stock version of Android and counts among the first to get Android updates.
Nokia N1 looks very powerful for the specification it features. The Finnish manufacturer has also created a customised interface which looks unique and feels lean on the system.
On the other hand, Jolla tablet is empowered with the open nature of Linux and uses customised Sailfish OS. The OS is also capable of running Android apps on board.
Key Specifications
| | | | |
| --- | --- | --- | --- |
| Features | HTC Nexus N1 | Jolla Tablet | Nokia N1 |
| Display | 8.9-inch IPS Display (2048 x 1536) | 7.85-inch IPS display(2048 x 1536) | 7.9-inch IPS display(2048 x 1536) |
| Operating System | Android 5.0 Lollipop | Sailfish OS | Android 5.0 Lollipop |
| Processor | 64-bit 2.3 Ghz dual-core NVIDIA | 64-bit 1.8GHz quad-core Intel | 64-bit 2.3 GHz quad-core Intel |
| RAM | 2 GB | 2 GB | 2 GB |
| Camera (Rear/ Front) | 8 MP / 1.6 MP | 5 MP / 2 MP | 8 MP / 5 MP |
| Storage | 16 GB (WiFi only)/ 32 GB (LTE) | 32GB + microSD support | 32GB |
| Battery | 6,700 mAh | 4,300mAh | 5,300mAh |
| Price | Starting at $399 | Starting at $189 | Starting at $399 |