Nokia has a solid smartphone portfolio and a new member recently joined the bandwagon, adding more value to the brand in India. Despite keen interest from many brands in the budget segment, Nokia is making a lasting impression with its all-new Nokia 5.1 Plus - taking on popular rivals such as Xiaomi, Honor, Samsung, and others.
Nokia has struck a perfect balance in its phones with affordable pricing, premium features and a brand name that consumers have associated with for several years. While many thought HMD's nostalgia trick to revive Nokia's brand name wouldn't last long, the Finnish brand managed to prove everyone wrong and successfully breathed life into the ailing phone brand. Nokia 5.1 Plus strengthens that commitment and here's what we think of this new smartphone.
Before we get down to the specifics, it's worth noting that Nokia 5.1 Plus is a pocket-friendly device priced at Rs 10,999. But the specs it offers for that price are quite impressive. Nokia 5.1 Plus comes with stock Android, 5.8-inch HD+ display, 3GB RAM, 32GB storage, dual cameras, lasting battery and more.
Design
Nokia phones have impressed us with their designs and the Nokia 5.1 Plus isn't any different. The new handset boasts a classy glass design which gives a premium feel. It is compact and makes it easy for single hand use. Nokia 5.1 Plus features a minimalistic design and the black variant we reviewed didn't feel like a budget phone at all.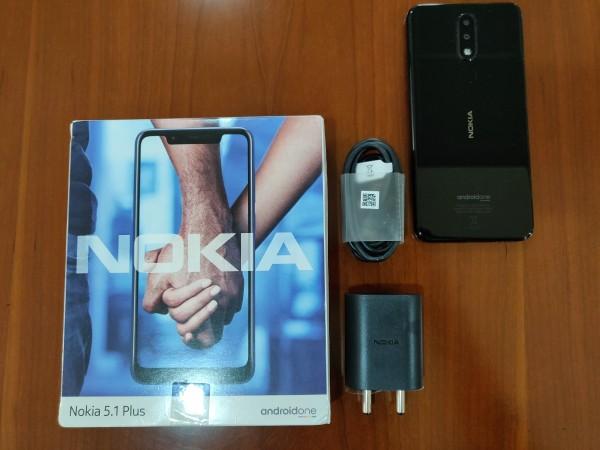 The shiny glass back attracts smudges, but that is the case with all glass phones these days. But the dark shade smartly hides the fingerprint marks on the glass, so you don't have to keep cleaning the back of the device quite often.
The handset features dual cameras at the back, a fingerprint scanner below it, and Nokia branding at the center and Android One engraved at the bottom. On the front, Nokia branding can be seen at the bottom of the notched display, which has the latest bezel-less form factor. On the right are the volume and lock buttons and on the left is a SIM card tray. At the bottom, there's a USB Type-C port with the stereo on one side and a 3.5mm headphone jack on the top.
Overall, the design of the Nokia 5.1 Plus is quite impressive for a smartphone in its range.
Display
The 5.8-inch HD+ display is suitable for day to day operations, multimedia playback, and even for games. The notched design is not like the one on most Android phones, but it looks a lot like the one found on the iPhone X, which is visually appealing (even though some might argue).

The display could have been brighter, but the HD+ resolution is sufficient for most operations. We did not have to strain eyes while using the Nokia 5.1 Plus under bright sunlight, but watching movies in well-lit areas would fetch reflections, making it hard to get the details.
Camera
Nokia 5.1 Plus takes good photos, if not great. The rear cameras at work can capture great details and accurate colour reproduction in natural lighting condition. But the same cannot be said about low-light shots, as the blacks do not appear as dark as they need to be. The dynamic range in natural sunlight is impressive and suffer in dark environments. There are various modes and settings in the Nokia 5.1 Plus camera app, allowing beauty adjustments and live bokeh. In our opinion, Nokia 5.1 Plus does great portraits using rear cameras and captures detailed silhouettes ready to be shared on social media with any quick edits.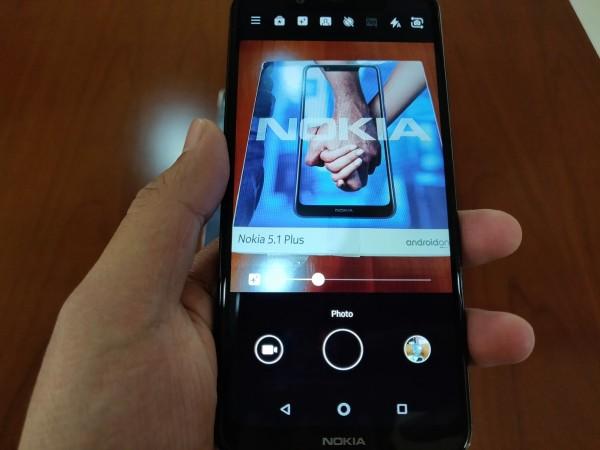 Switching to the front camera, the 8MP sensor does a decent job at taking selfies. The portrait on the front is not as accurate as the one on the back as it uses an algorithm to blur out the background, which is a work in progress.
Check out some samples shot using Nokia 5.1 Plus to show the front and rear cameras in action.
Performance
Nokia 5.1 Plus is one of the best performing smartphones in its price range. Powered by a MediaTek Helio P60 processor with 3GB RAM, the phone scores impressively on AnTuTu with 118319 points. One of the best things about the Nokia 5.1 Plus is its stock Android OS, which makes operations seamless and lag free. The phone is also eligible for two major software updates up to 2 years and monthly security updates up to 3 years. Nokia 5.1 Plus runs Android 8.1 Oreo, but it will receive Pie in time.
We also tried gaming on the device, and the Nokia 5.1 Plus seemed to handle it pretty well. Playing PUBG Mobile on Nokia 5.1 Plus did not drop frames with default graphics settings. This came as a surprise given the phone's low pricing at Rs 10,999. It shows high performing devices need not be expensive.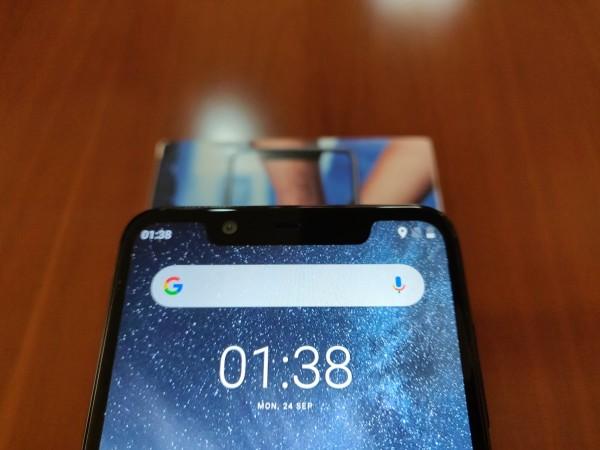 Nokia 5.1 Plus is also great for media streaming. Watching TV shows on Netflix and Amazon India in HD is possible on this budget phone - a feature some phones skipped even in phones priced at Rs 20,000.
Battery
Nokia 5.1 Plus comes with a large 3,060mAh battery, which can be felt in the handset's thickness. The phone supports 10W fast charging, which is useful for a battery its size but it is not as fast as Oppo's VOOC or OnePlus Dash. It takes about 120 minutes to fully charge the phone, and with mixed usage (screen time: 6 hours) Nokia 5.1 Plus would easily last a full day. Depending on how actively users use the phone, the battery life is likely to differ, but it is safe to say that a full day charge is the least this Nokia phone can offer. All said, Nokia 5.1 Plus is also the cheapest phone with USB Type-C port, which not only contributes towards fast charging but also faster data transfer and convenience of a reversible plugin.
Verdict
We have come across several phones in the budget segment, but Nokia 5.1 Plus is a breath of fresh air with stock Android under its skin. The phone looks elegant and feels a lot more premium than an Rs 11,000 smartphone. If you love stock Android in a good design phone with reliable battery and stable performance, look no further than Nokia 5.1 Plus. The camera could be better, but Nokia 5.1 Plus does what most phones do at this price range.