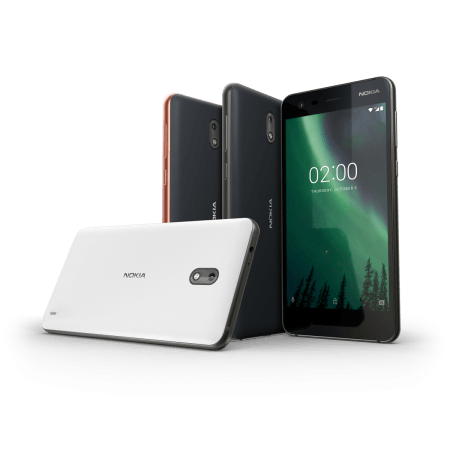 In December 2017, HMD Global Oy's chief product officer Juho Sarvikas had confirmed that the Nokia 2 will received Android Oreo update in the coming months. Now, looks like the company is finally getting ready to roll out the update early next month.
The company confirmed the news at the recently concluded Moscow event, which witnessed the launch of the new Nokia 6, 5 and 3 series phones.
Nokia 2, which currently runs on Android Nougat will skip the v8.0 Oreo and get the latest v8.1.
What's interesting is that the company is bringing special Android Go edition software for the budget phone. It is said that the device's performance will improve over time.
For those unaware, Google's newly introduced Android Go is developed particularly for budget phones with bare minimum hardware (1GB or less RAM) in developing markets like India and Africa. It is very light in size but does not compromise in terms of performance.
Google has optimised the new version and enhanced preinstalled Google apps to take up 50-percent less space, making sure that low-end smartphone users get more space for music, apps, photos and other activities. It has also improved the firmware for speed and reliability on entry-level devices, making apps on handsets running Android Oreo Go faster by 15-percent.
What's coming in Android Oreo update?
Android Oreo comes with optimisations to improve battery life by cutting down on unnecessary background activities of apps, faster booting, and a more fluid experience. The update also boasts of enhancements in security via Google security patch and Google Play Protect which keeps a tab on suspicious activities and malware in apps.
A notable aspect of the Android Oreo is the Rescue Party feature, which helps the device recover from constant boot loops.
New biometric security options allow the user to disable fingerprint reader if an unregistered fingerprint tries to open the phone more than a pre-set number of attempts.
The Safe Browser feature intuitively detects when users unknowingly go to malicious URLs, and it will stop any spying attempts on the phone.
It also comes with a value-added battery management feature that will allow the user to see the battery life status of the wireless earphones, so he or she can know beforehand to charge them before heading out.
Google's Android team has also added Neural Networks API (NNAPI) support in v8.1 Oreo, which will enable device's machine-learning capabilities to improve user-experience of Google Assistant. Though we are not sure if an entry-level phone like Nokia 2 has the compatible hardware to run NNAPI.
Smart Text Selection will improve copy and paste option. With the help of machine learning to recognise entities on the screen—like a complete address—users will be able to easily select text they want with a double tap, and even bring up an app like Maps to help during navigation.
It also comes with the picture-in-picture feature, which enables device owners to multi-task, like checking the calendar while planning a party on a Duo video call.
Stay tuned. Follow us @IBTimesIN_Tech on Twitter and on Google News for latest updates on HMD Global Oy's Nokia products and Android Oreo release schedule details