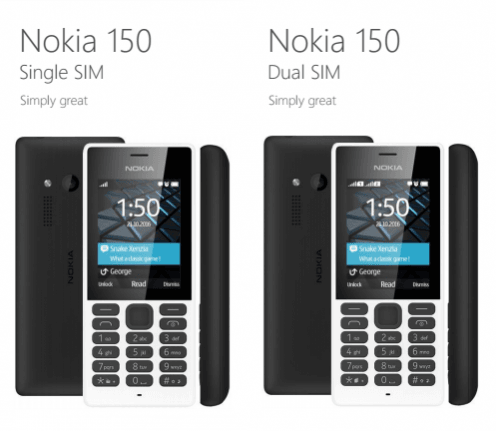 HMD Global, which now owns rights to the Nokia smartphone brand, sprang a surprise when it launched two Nokia-branded feature-phones even before 2016 is yet to come to an end. Nokia loyalists had naturally expected the launch of these handsets to take place during early 2017. Nonetheless, the new Nokia phones launched are the Nokia 150 single SIM and the Nokia 150 Dual SIM editions. Good news is that these devices will hit India where users of Nokia devices are still plentiful.
Now, on paper, HMD Global's latest strategy of launching feature phones before the Nokia Android phones seems unconventional; however, on close analysis, it is evident that traditional Nokia loyalists in fact were sitting in wait for a Nokia-branded feature phone rather than a smartphone.
In India, it is worth noting that smartphone shipment started overtaking that of feature phones only recently. Close market analysis, of both user (and buying) pattern as well as market conditions clearly reveal that Nokia is still the preferred feature phone brand. Even the business section of people who tend to normally own flagship smartphones, are making enquiries in the market with respect to purchasing a phone exclusively for personal calls (to friends and family).
"I use a Samsung Galaxy S6; but am limited to using the smartphone just for business. I find it irritating to attend to both personal calls as well as business calls on the same phone; hence I prefer a tier-2 handset just for personal use. What better than a good-old Nokia phone with excellent battery backup", stated a Chief Technology Officer at a reputed software development firm, on the condition of anonymity.
We collected inputs from several other decision makers, spread out across industries, and found that a majority of people preferred a secondary basic phone and also opined that they would opt for a Nokia.
Nokia branding is still eye-grabbing:
Now, as far as Nokia's latest 150 and 150 dual SIM editions are concerned, both these are Nokia-branded devices, despite HMD Global enjoying the rights to the brand. In India, which is considered as an emerging technology market, despite holding some of the biggest technology firms in history, value-for-money and branding plays an important role during buying.
With Nokia's 150 cellphone slated to get an ultra-affordable price-tag of less than Rs 2000 in India, both old-timers (people having used Nokia handsets across generations) and even young professionals could potentially give Microsoft's new feature-phone a thought.
HMD Global also states that the new Nokia 150 single SIM-card and dual SIM-card variations would retain all the traditional Nokia elements.
Impressive areas of the Nokia 150
Besides its affordability factor, Nokia 150 features the all important aspect of a 'good' battery. Both the variants of the Nokia 150 offer a 1020 Lithium-Ion battery that is removable. USP here is that users would be able to get nearly a full day's worth of talktime even when the phone is used continuously after the battery is fully charged. This is considering the fact that earlier Nokia phones, such as the Nokia 105 (released in 2015) offered an 800mAh battery that offered 15 hours of talktime on continuous usage; and these handsets turned out to be popular (in emerging economies) in fact. Now, it only makes sense for Nokia loyalists to consider that the 1020 mAh battery's claimed talktime of almost a day could get practical.
Another notable aspect is the dual SIM-card slot; this makes sense considering the fact that this offering is treated as a rear functionality within similar-range handsets manufactured by reputed names. In emerging markets, having dual SIM-card slots makes complete sense considering the intensity of usage of portable gadgets.
Finally, the Nokia 150 comes with a VGA rear camera which has the potential to make basic photography interesting. As far as the operating platform is concerned, the latest Microsoft Nokia 150 runs Nokia's once popular Series 30+ feature-phone operating platform that provides for smooth/intuitive in-phone navigation, and the cellphone lets users store up to at least 2000 contacts within.
Design-wise, the new Nokia 150 has the traditional Nokia look and feel and offers users the conventional Nokia keypad for inputting data. The new Nokia phone can also be used potentially as an 'emergency device' in case your more prioritized smartphone runs out of battery juice, especially when you are on the move.
A probable 'pleasant surprise gift'
The newest Nokia 150 is not very different from the traditional Nokia feature phones of yore. This handset still gives off that conventional Nokia feel and seems like it is not branded by HMD Global ( a relatively unknown company in India). This should do well to serve as a gift especially to the elderly folk whose children fret over the topic of a feature-phone. 'Dumb phones' is the more colloquial term used to describe a feature-phone, nowadays.
On final thought, the Nokia 150 seems like old-wine in a new bottle which seems worthy of consumption. The new phone has all it takes to take users back to the good old days where cheap Chinese brands completely faded in comparison to Nokia.
Summary of the key technical aspects of Nokia 150
2.4-inch display
Series 30+ operating platform
VGA rear camera
MicroSD card slot for expansion of internal storage up to 32 GB
Dual SIM-card support
Features like Flashlight, FM Radio; and microUSB connectivity
1020 mAh removable Lithium-Ion battery that should do well to offer talktime lasting almost an entire day on full charge.
81 grams in overall weight.