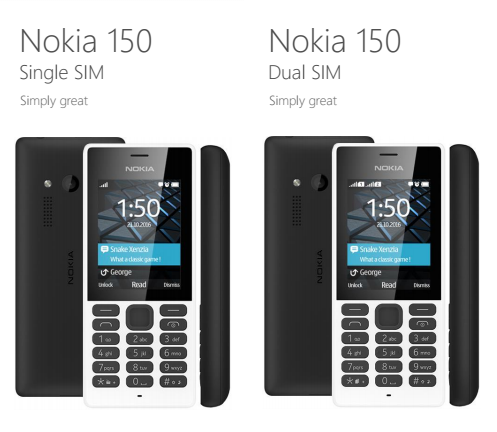 Nokia's branding goes a long way into the history when phones were more of a luxury than a necessity. As the industry evolved, tech companies took over the trend by setting new benchmarks. Today, we live in an era where smartphones have become an integral part of our lives. But Nokia is not dead yet.
Thanks to Finnish startup HMD Global, Nokia is on the verge of making itself popular again. Although the initial methods seem ancient, let's not give up hope just yet.
In partnership with HMD Global, Nokia has launched two feature phones Nokia 150 and Nokia 150 Dual SIM on Tuesday. Both phones are a reminiscent of classic Nokia feature handsets from the past and are priced at $26 before taxes and subsidies.
If you are planning to get your hands on the new Nokia phones, you will have to wait a bit longer. Nokia 150 and Nokia 150 Dual will be available in select markets, starting from APAC, IMEA and Europe, in the first quarter of next year.
Quite frankly, we were hoping to see Nokia's Android smartphones that are expected to be disruptive in both innovation and pricing. The so-called Nokia D1C phones have long been powering the rumour mill, but there is a lot of uncertainty on their exact release date. But the company has assured that the first batch of Nokia's Android smartphones will be available in the first half of 2017.
So we are guessing the two basic Nokia phones are being used to plough the field before sowing the seeds. If you are interested in knowing the specs of the Nokia 150 and Nokia 150 Dual SIM, check them out below.
The two new handsets are designed to withstand force as they feature hard-wearing polycarbonate shells and scratch-resistant color. Based on Nokia Series 30+ OS, the two new phones have a 2.4-inch QVGA display, a VGA camera with LED flash at the back and a 1020mAh battery, which is aimed to last up to 22 hours on talk time.
In terms of connectivity, both phones have a microUSB slot, a 3.5mm AV connector, Bluetooth 3.0 with SLAM and microSD card support up to 32GB. While the demand for smartphones is on the rise, it remains to be seen how HMD Global plans to make its feature phones worthwhile for consumers. There's some hard convincing to do if you ask us.