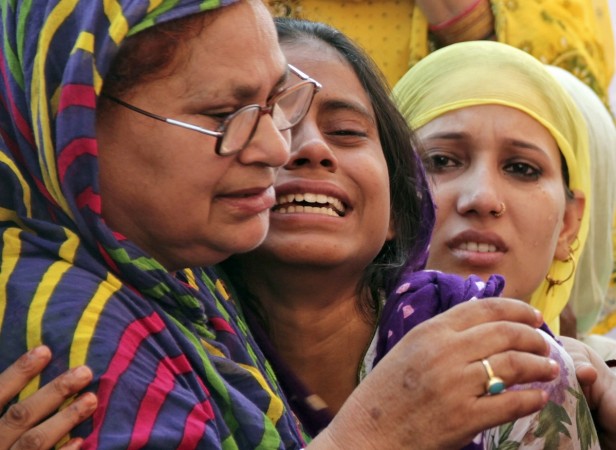 A Greater Noida court on Thursday ordered the filing of an FIR against the family of Mohammad Akhlaq, the 50-year-old man who was dragged out of his home and lynched publicly by a mob last year in Dadri, Uttar Pradesh, over rumours that he had stored beef.
The court order came in response to a petition filed by an elderly neighbour in this regard.
The petition alleges that his family had killed a calf and that his brother Jaan Mohammad was seen slitting the throat of the animal in a field.
Earlier in May, the findings of a new forensic report contradicted the version of a local doctor who was quoted in the immediate aftermath of the lynching that the meat found in a dustbin outside Akhlaq's home was mutton and not beef. The new report, however, claimed that the meat was of "a cow or its progeny."
"This is a victory of justice. I will go back to villagers with the court order. I will study the full order and then call a panchayat (village meeting) over it," Sanjay Rana, a local BJP leader, whose son was among 18 arrested for Akhlaq's murder, was quoted saying to NDTV as he welcomed the court decision.
Like in many other states, cow slaughter is a non-bailable offence in Uttar Pradesh and it carries a punishment of up to seven years in jail. However, some members of civil society are attempting to constitutionally challenge the beef ban through PILs in Madhya Pradesh and New Delhi.
On Wednesday, the Delhi High Court issued a notice to the AAP government to file its response to a PIL challenging the criminalisation of possession and consumption of beef in the national capital. The Delhi Government has been directed to file its response by Sept. 14.
The petition adds that the "prohibition of possession and consumption of beef per se as under the Cattle Preservation Act is in violation of the fundamental rights of the petitioners and other persons similarly situated.." as "right to food is an essential part of the right to life and personal liberty as enshrined in Article 21 of the Constitution of India," according to a report by the Indian Express.