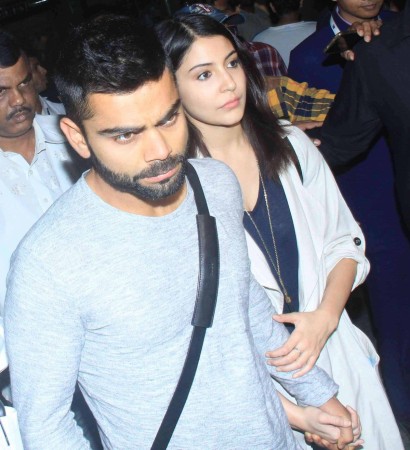 Anushka Sharma will not cheer each and every run from the stands in Sri Lanka when the men in blue tour the island nation for a three Test match series starting 12 August.
If the Bollywood star has plans to travel alongside Kohli for India's tour of Sri Lanka, she would be well advised to drop it, as the BCCI has decided not to allow wives and girlfriends (WAGs) of players to accompany them for the tour of Sri Lanka.
Other members of the Indian team, who would have planned to take their wives/girlfriends along with them, also need to make some serious changes to their plans.
"Most of the players on tour are just coming off a month-long break where they had enough time to spend with their families. And we've decided that their wives will not be allowed on tour," The Indian Express quoted a top BCCI official as saying.
The Indian players were given a decent break after playing some continuous cricket over the past six to seven months, starting from the tour of Australia till the tour of Bangladesh. This is also the reason why India selected many new players for the Zimbabwe tour.
""we've decided that their wives will not be allowed on tour," BCCI official"
-
India's tour of Sri Lanka will be their first series together after the break. Ravi Shastri, the team director, is expected to join them on 9 August.
He is currently a pundit of Sky Sports in the ongoing Ashes 2015 series in England and the BCCI official confirmed that Shastri had been given permission to fulfil his Sky Sports contract.
"Shastri will join the team a bit late as he is presently a pundit on a post-match show on Sky Sports for the Ashes series. He had informed the BCCI about it and as we finalised the BCCI itinerary a bit late, he had already taken permission to skip the early part," a BCCI official said.
Ravi Shastri, despite being in charge of the team on India's tour of Bangladesh, is not the permanent coach, only a stop-gap arrangement. Prior to South Africa's tour of India that starts from September, an official announcement is expected to be made for the coveted post.
Former Australia cricketer Stuart Law has also shown some interest in the job of late.