Not long ago, alleged photos of a certain unreleased Xiaomi phone - "Mi Mix 2s" - with an iPhone X-like notch on the top started doing the rounds on the Internet. The "alleged" photos were leaked on Chinese social media site Weibo, and soon afterwards gave rise to speculations that the alleged Mi Mix 2s will be the first smartphone to copy the iPhone X notch, but what if we told you that there is no such device in Xiaomi's pipeline (at least for now) and the phone that we've been so happily accepting as the Mi Mix 2s is actually a standard Mi Mix 2 running an app that mimics the iPhone X notch!
Apparently, Xiaomi had been exploring the various possibilities for the positioning of the front camera on the Mi Mix 2 before its launch. And one of the implementations included a design that featured a cutout at the top, quite similar to the infamous "notch" on the iPhone X. Eventually, Xiaomi decided to place the front-facing camera module at the bottom bezel of the Mi Mix 2.
There have been reports that state that the Mi Mix 2s will be a reworked Mi Mix 2 with a bezel-less design with a notch at the top housing the front camera and other sensors.
The "alleged" photos cleverly hide the bottom bezel, which is where the front camera module is located on the Mi Mix 2.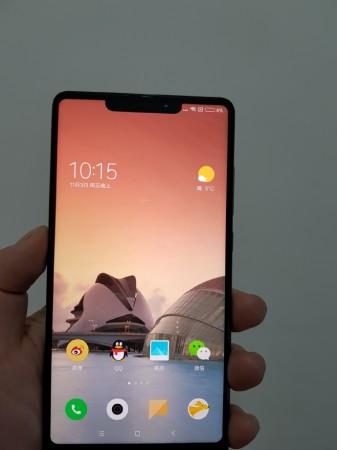 Furthermore, the MIUI theme store has plenty of themes that allow users to give their Xiaomi phones an iPhone X-like look. Themes that mimic iOS have been popular with Xiaomi customers for many years now, and the iPhone X launch has just started a new set of themes that allow users to emulate the notch on their Xiaomi phones.
On the contrary, there is an app called Notcho on the Apple app store which allows iPhone X users to perfectly hide the notch.