Apple's iPhone X is clearly the best iPhone ever made. Everything from its bezel-less screen to the extra-ordinary camera and a massive design overhaul, iPhone X earns every bit of praise it has received since the launch. But the unsightly notch on the iPhone X is certainly a visual disaster, as many of you might agree.
In several attempts to conceal the notch on the top, one app has finally got it right. Aptly dubbed as Notcho, the new app available on App Store for free, perfectly hides that ugly notch in the best way it can.
All that Notcho does is create backgrounds that cover the flaps on either side of the notch with black hue, so it appears as one straight-cut bezel on the top. Check out the sample image with and without Notcho app below: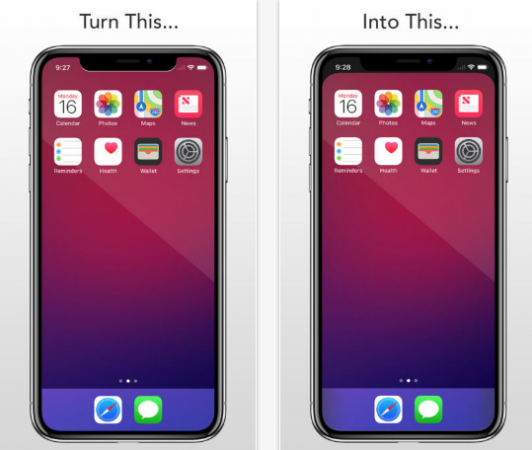 Users can choose from some pre-loaded backgrounds within Notcho to conceal the notch. But for a more personalised experience, users can import any photos and images and transform them into a notch-free wallpaper for your iPhone X.
But there's a caveat. Notcho doesn't hide the notch while running apps, and it doesn't look like there might be an update to the app to do so in the future.
"This app can only hide the notch in wallpapers on your home and/or lock screens. It is not possible to hide the notch while running apps," developers of the app noted.
The wallpapers created using the free version of the app leaves a tiny watermark. So it's either that notch or the watermark – the choice is yours. But there's a third option as well. If you can spare $2 as the one-time fee towards Notcho's premium subscription, you'll get rid of the watermark. There's certainly no free lunch in the world.
But if you are not a fan of changing wallpapers, there might be another way out. Alex Humberman shared an iPhone X wallpaper that hides the notch in the same way as Notcho, BGR discovered. But the best part about this is that it's free and you'll find no watermark on it.
If there's a problem, there are more than one way to solve it. You just have to look harder, and in this case – not so much.