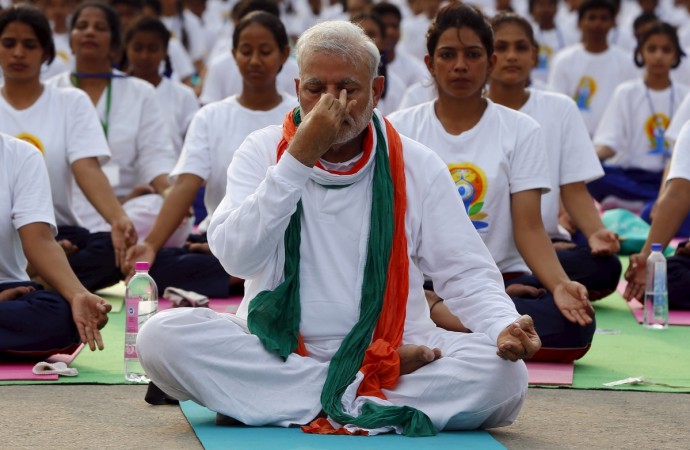 After facing flak from several minority communities for making chanting of Om compulsory on the World Yoga Day last year, the Indian government has steered clear of the path this year. World Yoga Day is observed on June 21.
AYUSH (Ayurveda, Yoga and Naturopathy, Unani, Siddha and Homoeopathy) minister Shripad Naik said on Wednesday that there was no compulsion to say "Om" while performing various yoga exercises.
He was quoted by the Press Trust of India as saying that no changes had been made in the patterns of exercises this year. However, the duration of the yoga practices has been increased by 10 minutes.
The government announcement is seen as a reversal in its stance as the minister had earlier said that new asanas and postures would be introduced this year.
"Om is a universal word. There is no religious connotation to it. It will be a part of the yoga day programme just like last year, but it has not been made compulsory. Those who want to chant Om can do it. Others can say something else they wish. It is up to them," Naik was quoted by the PTI as saying.
The Modi government had to remove Surya Namaskar from the exercises protocol last year to cater to "sensibilities" of various minority groups, the Times of India reported.
The All India Muslim Personal Board (AIMPLB) launched a nationwide campaign last year demanding that government directive of making Surya Namaskar compulsory in schools should be abolished.
Surya Namaskar is a Yoga practice is a very ancient technique of expressing gratitude to the sun, which is believed to be the source of all forms of life on earth, according to NDTV.
The United Nations (U.N.) General Assembly adopted a resolution on Dec. 11, 2014, declaring June 21 as World Yoga Day after Indian Prime Minister Narendra Modi proposed the same during his first address to the U.N. General Assembly in June 2014 .