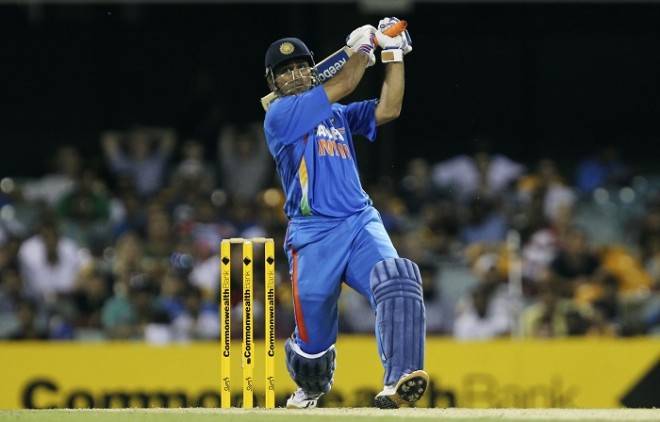 MS Dhoni's captaincy has been a subject of discussion of late with the men in blue having lost the last three ODI series under the leadership of the man from Jharkhand. However, former Sri Lanka batsman Kumar Sangakkara has backed Dhoni and feels that he knows the best time to give up captaincy.
Irrespective of what critics have to say, Dhoni is one of the most successful players to have captained India, which is not an easy task. Cricket is like a religion in India where captains are always under immense pressure and Dhoni needs to be applauded for handling the pressure as cool as a cucumber.
Even if Dhoni steps down as captain, he has a long way to go before he decides to hang his boots from coloured clothing. He is one of the most successful ODI batsmen for India, winning matches on his own a number of times.
Sangakkara believes the selectors and Dhoni needs to sit down and talk about such issues of captaincy.
"Dhoni has been the longest-serving captain of a national team, where the game is considered a religion. I believe no one can understand the pressure of captaincy like Dhoni. So he knows it best when to give up on captaincy. And it is a dialogue which should happen between Dhoni and the selectors," The Times of India quoted Dhoni as saying.
However, India is blessed to have Virat Kohli waiting in the wings as he can take over the captaincy from Dhoni when he gives up on it. Kohli, who is the captain of the Test side, has helped India win huge series against South Africa and Sri Lanka in white uniform.
Even the stylist left-hander feels Kohli is ready for the job.
"Kohli is aggressive on the field and knows how to conduct himself. He looks ready for the job," said Sangakkara.
Dhoni, who will lead the side in the World T20 in India in March 2016, will be keen to help India lift the title for the second time under his leadership. India, who are masters at home, are one of the top favourites to clinch the title as well.
"Spin will be the key to winning matches in World T20. India will start favourites. No one knows how to handle pressure better than Dhoni," said Sangakkara.