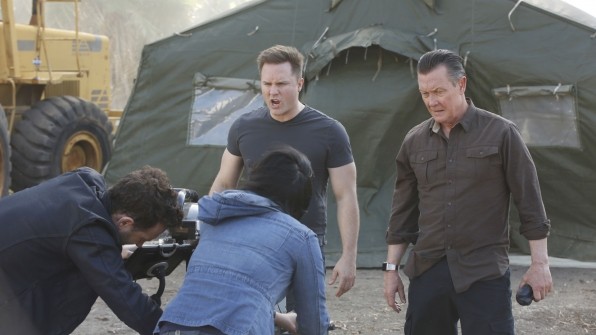 Team Scorpion will be assigned with the task of breaking into one of the safest forts in the world and retrieve an artifact of crucial importance in the upcoming episode titled "Hard Knox" of CBS' action-drama series "Scorpion" Season 2.
According to Design & Trend, Agent Cabe Gallo (Robert Patrick) will send Walter (Elyes Gabel) and his Team Scorpion on a mission to steal a valuable artifact from Fort Knox. The team will include Sylvester (Ari Stidham), Happy (Jadyn Wong), Paige (Katharine McPhee) and Toby (Eddie Kaye Thomas).
Carter Matt has reported that after finishing the mission, Walter and his team will again have to visit Fort Knox for analysing the artifact as they suspect it holds a dangerous weapon within.
Team Scorpion is known for finishing their mission as quickly as possible. However, how much time it will take for them to complete the latest one will be revealed only once the episode airs April 11.
In the previous episode titled "Twist and Shout," a construction company found an ammunition belt while clearing a site for a factory. The belt belonged to a Marine patrol that went missing in 1971 near Pleiku, Vietnam.
Team Scorpion was hired by a retired Marine John Pandova (Josh Randall) of the Defense POW/MIA Accounting Agency to investigate the case. It was later revealed that the belt belonged to the ex-marine's father.
While investigating the case, Walter and his team members met an unexpected hurdle when they found themselves in the path of an F4 tornado. The tornado compelled them to work as quickly as they could have otherwise it would have been disastrous.
Meanwhile, Ralph (Riley B. Smith) hired Haywood (Horatio Sanz) as his attorney when Ralph's college professor stole his sound wave software. Ralph had designed the software after he received a failing grade for his coding project.
Elsewhere, Tim (Scott Porter) took Walter's advice to go on a date with a beautiful, kind and smart woman as he asked Paige out. It left Walter all by himself playing the video-game "Proton Arnonld" and trying to beat Tim's high score.