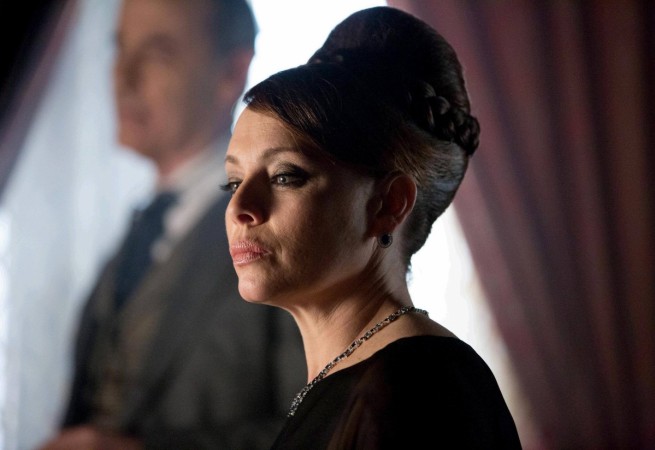 "Wrath of the Villains" in "Gotham" finally saw Nygma (Cory Michael Smith) making a huge move after a long time, and it is certainly only the beginning for him. However, fans will have to wait another week to see how his mania will grow, as "Gotham" has gone on a week-long break.
In the promo for the upcoming episode, it looks like Nygma's split-personality disorder will come back with full intensity. As viewers know, Nygma had got paranoid and had committed yet another murder in "Mad Grey Dawn" and had even played puppeteer in Jim's (Ben McKenzie) arrest. He has also been taking on the characteristics of the Riddler from the comic books, including incorporating question marks and green colour in his riddles. The upcoming "Into the Woods" will see him completely embracing his role as Gotham's Riddler.
In the promo for the episode, voice-over of Nygma says, "A nightmare for some, for others a savior I come... My hands cold and bleak it's the warm hearts they seek." With the voice modulation, he sounds exactly like the Riddler would if the comic book character were to come to life.
Also Read: Hannah gets killed next in "Quantico?"
The promo also suggests that Barbara (Erin Richards) will return soon. She was in the Arkham Asylum, comatose, the last time fans saw her. Considering she is out in the world, it looks like she must have undergone the same intense treatment Penguin (Robin Lord Taylor) had gone through before he was let out of Arkham.
Speaking of Penguin, he is currently devastated by the death of his father, who, as fans will remember, was killed by his own wife Grace (Melinda Clarke). This could very well be the incentive for him to return to his old ways, although Dr Strange (B.D. Wong) did a number on him to "cure" him.
Fans will have to wait till Monday, April 11, when "Gotham" Season 2 episode 17 "Into the Woods" will be aired to learn how each story will unfold.