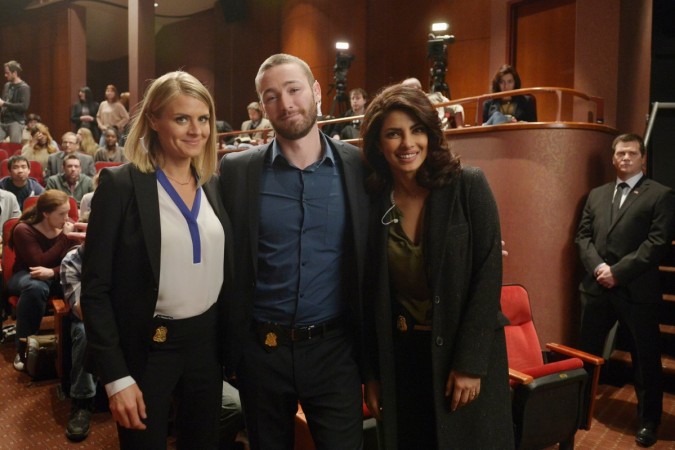 Finally more people are starting to believe that Alex (Priyanka Chopra) is not unravelling or crazy. In the upcoming episode or "Quantico," she will working with her unlikely new ally, Hannah (Eliza Coupe), to minimise the damages caused by the terrorist.
After failing to trace Natalie (Anabelle Acosta), Hannah acknowledges that the "unstable, out-of-control, paranoid" Alex that she despises may actually be right. Alex has been asked by the terrorist to swap Senator Haas' (Marcia Cross) pill bottle and after confirming the pills aren't poisonous, Alex tries to figure out why the terrorist wants to make the swap.
In the upcoming "Clue," Alex will learn that a component chip was placed inside the pill bottle. The chip is capable of knocking out all the power in the vicinity, and as soon as Simon (Tate Ellington) explains this to Alex, the power in the hall that Haas is addressing goes off.
Also Read: New cast, characters joining 'Longmire' Season 5
The crowd starts panicking and Haas' security surrounds her, even as Alex and Hannah run towards her. However, before they can do anything significant a gun goes off from within the crowd. Considering the order of events so far, though, it does not look like Haas' life is at risk. In fact, even the terrorist had told Alex that if they wanted Haas dead, she would be dead by now.
While this new development may give fans and Alex a "Clue" as to the identity of the terrorist, Hannah and Alex working together has put the minds of fans at unease. The last person to work with Alex, Natalie was seemingly blown up by the end of the episode. Hence, there is obviously a fear for Hannah's life as well. Moreover, Coupe reportedly is working on a pilot, meaning Hannha's death is imminent.
Meanwhile, back at Quantico, all the NATs will be reeling from the attacks of previous episode. Shelby, (Johanna Braddy) however, is still shell-shocked about learning that her parents are alive and they were paying Samir to pretend to be her sister. A new training exercise from Liam (Josh Hopkins) is expected to make matters worse for her.
Watch Season 1 episode 16 of "Quantico" at 10 p.m. (EST) Sunday, April 3. You can also live-stream "Clue" via ABC Go!