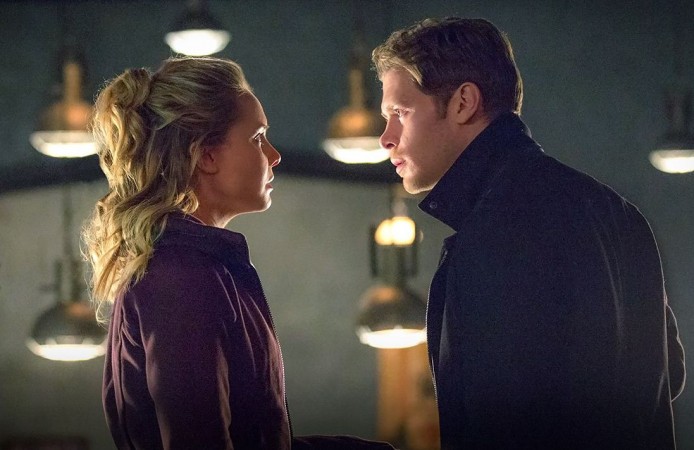 Klaus's (Joseph Morgan) immortality or lack thereof is finally catching up with him in "The Originals" Season 3. In order to protect the people he love, the vampire hybrid has disappeared from New Orleans with his daughter, Hope, and the mother of his child, Hayley (Phoebe Tonkin).
The departure of one Mikaelson sibling has been compensated by the arrival of another, as seen in the final moments of Season 3 Episode 15 "An Old Friend Calls." The oldest Mikaelson sibling Finn (Casper Zafer) has returned to "The Originals" and will be seen picking fights with almost every member of the family in the upcoming episode. However, that isn't until Friday, April 1.
In "Alone with Everybody," fans will be reminded of how much Finn hates his siblings and how they reciprocate the feeling. In the promo for the episode, Ejijah (Daniel Gillies) asks him, "How was hell? Is it warm this time of the year?"
Also Read: 'Smallville' Easter Egg in 'Legends of Tomorrow' revealed
Finn thinks that his entire clan is sick and even assisted their mother Esther (Sonja Sohn) in her endeavour them all and be brought back to life as witches and not vampires. However, with the help of Kol (Nathaniel Buzolic), who was also dead until Season 3 Episode 15, Klaus and Elijah had thwarted Esther's plans and defeated Finn in Season 2.
It is understood that Finn was brought back from the dead soon after Davina (Danielle Campbell) resurrected Kol and possibly was a side-effect of the spell Davina used. In the upcoming "Alone with Everybody" she will try to undo her mistake, but will soon be stopped by Finn who almost kills her before Kol intervenes.
Marcel (Charles Michael Davis) describes the events from the upcoming episode perfectly when he tells Elijah, "The term sibling rivalry is about to take on a whole new meaning." After all, these brothers have centuries' worth of misunderstandings and backstabbing to fight about.
Ahead of the Season 3 Episode 16 "Alone with Everyone" premiere of "The Originals" at 9 p.m. (EST) Friday, April 1, we will be sharing more spoilers and speculations. Do not forget to check those out.