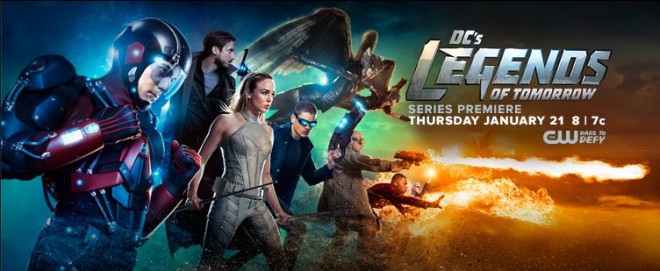 DC's "Legends of Tomorrow" is two members short as of Episode 7 titled "Maroned," but their determination to find and kill Vandal Savage (Casper Crump) has not diminished. In the upcoming Episode 8 titled "Night of the Hawk," the fans will see the legends travelling to a small town in Oregon in the 1950s.
The episode will be extra special for the fans of the Superman-centric TV series "Smallville." It is understood that during that time, Savage was working as a doctor named Curtis Knox in the town, and using the disguise to catalyse his mission of world domination.
"Smallville" fans will remember Curtis Knox as the villainous doctor played by Dean Cain, who has also played the role of Superman in the past, and is currently portraying Jeremiah Danvers, Supergirl's foster father in the CBS show "Supergirl." According to Coming Soon, the immortal doctor played by Cain was supposed to be named Vandal Savage, but DC refused to give the show's producers the rights to use that name.
Also Read: 'Arrow' Season 4 leaked set photos
In "Night of the Hawk," however, Savage is Knoxx, and he is certainly up to no good. In order to infiltrate Savage's centre of operations, the legends will do undercover themselves. Sara (Caity Lotz) becomes a nurse and possibly even seduces a closeted nurse from the hospital that Savage is working in. Meanwhile, Dr Stein (Victor Garber) will be seen playing a doctor.
Ray (Brandon Routh) and Kendra (Ciara Renée) will move into the neighbourhood as a newly-married couple, however, their cover may get blown soon enough considering an inter-racial couple was not the norm in the 50s.
Although Hawkgirl has begun a fling with the Atom, and are now pretending to be a married couple, fans are quite anxious to know about the fate of her soulmate Carter Hall aka Hawkman (Falk Hentschel). Considering he is still a main cast member and that the show deals with time-travelling, fans know he will return. However, it has not been addressed by the writers yet.
Taking "Arrow" and "The Flash" into consideration, it is safe to assume that he will return just when Kendra and Ray are about to take a significant step forward as a couple.
Watch Season 1 Episode 8 of "Legends of Tomorrow" at 8 p.m. (EST) Thursday, March 10. You can also live-stream "Marooned" via The CW Seed and CWINGO.