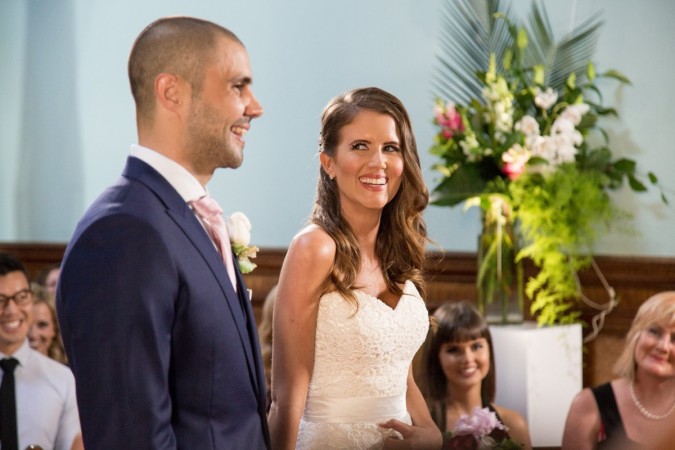 Channel 9's reality TV series "Married at First Sight" Australia, touted to be the biggest social experiment in the country, will go off air for a few days. The show, which usually airs on Mondays and Tuesdays, will end with it's final instalment, Season 2 episode 7, on Wednesday, April 27.
So far, the couples on the TV show have experienced what marriage is like. While the experiment has worked for some, it hasn't for others. Among the four couples on the show, one already called it quits on their marriage and it remains to be seen who stays together in the end.
Erin and her partner Bryce seem to share the best marriage compared to the rest of the cast. They understand each other and the age difference between them seems to have helped in some way. Bryce is quite attentive towards his wife. His love for his partner became evident when she went on and on about moths and he listened patiently. These two certainly have a good chance at making their relationship work even after the show ends.
Meanwhile, it is difficult to predict if Christie and Mark will be together. Their long-distance relationship has caused the both of them a lot of grief. Although Christie did reveal in episode 6 that she must love him because she wouldn't travel from Sydney to Victoria for anyone else. It remains to be seen if Mark is getting tired of Christie's rants? Can he put up with it any longer?
Another couple who has little hope of making their relationship work is Simone and Xavier. In many ways, Simone's relationship mirrors Clare and Jono's. The two are extremely incompatible. This became evident when Simone asked her partner to plan something romantic for her and he replied that he's busy. Unless Xavier has a change of heart, it is difficult to see a future for them.
Who do you think will stay together in the end? Let us know in the comment section.
"Married at First Sight" Australia Season 2 episode 7 airs at 7.30 p.m. AEST on Wednesday, April 27, on Channel 9. You can stream the past episodes via 9now.