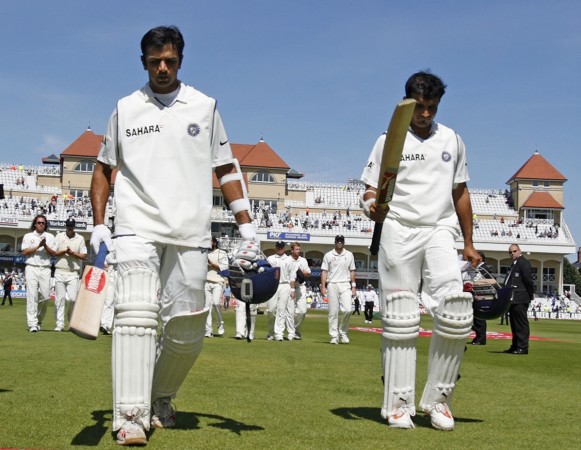 Sourav Ganguly will catch up with his former India team-mate Rahul Dravid at the ICC Under-19 World Cup in New Zealand. The tournament starts tomorrow (January 13).
Dravid is India's coach and Ganguly, who is the president of Cricket Association of Bengal (CAB), will be a part of the tournament as TV commentator. He is set to give his views on India matches on Star Sports.
Also read: U-19 World Cup fixtures, TV info
Prithvi Shaw-led India are in Group B with Australia, Zimbabwe and Papua New Guinea. India's first match is against Australia on Sunday (January 13).
Today (January 12), the International Cricket Council (ICC) announced the commentary panel for the global 50-over event. Ganguly and Anjum Chopra are the two Indians who will commentate on the 16-team tournament.
After retirement, Ganguly has done TV commentary but he had to give up the same due to conflict of interest as he is the head of CAB. However, he returned to commentary for last year's ICC Champions Trophy in England.
Even during that tournament, where India lost to Pakistan in the final in England, questions were raised about Ganguly's conflict of interest.
Cricket historian Ramachandra Guha, who was part of the Supreme Court appointed Committee of Administrators (CoA) at the Board of Control for Cricket in India (BCCI) had pointed out Ganguly's conflict of interest.
"Conflict of interest is rampant in the State Associations as well. One famous former cricketer is contracted by media houses to comment on active players while serving as President of his State Association (Ganguly)," he had written in his resignation letter while quitting CoA.
Former skipper Ganguly had said during Champions Trophy that there was no conflict of interest as he was appointed as commentary by ICC and not BCCI.
Again, ICC has roped in Ganguly as commentator. This time too there is no conflict of interest for the former left-handed batsman.
There is no commentator from Pakistan and Bangladesh.
Full list of commentators for U-19 World Cup (as announced by ICC)
1. Sourav Ganguly (India)
2. Tom Moody (Australia)
3. Ian Bishop (West Indies)
4. Simon Doull (New Zealand)
5. Danny Morrison (New Zealand)
6. HD Ackerman (South Africa)
7. Anjum Chopra (India)
8. Rob Key (England)
9. Nick Knight (England)
10. Mark Butcher (England)
11. Grant Elliott (New Zealand)
12. Chris Harris (New Zealand)
13. Alan Wilkins (England)
14. Russel Arnold (Sri Lanka)