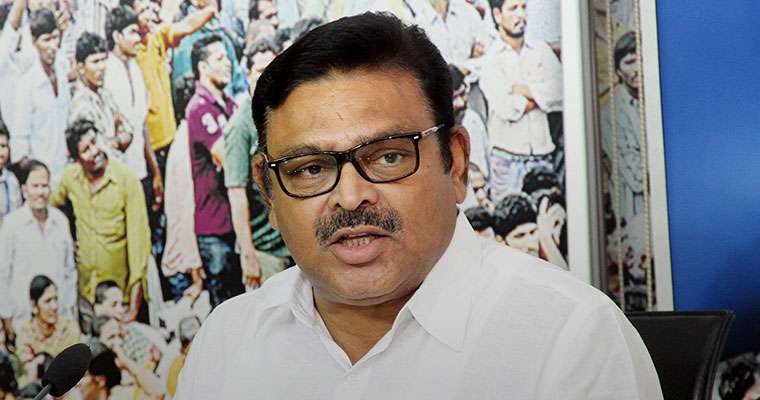 YSRCP leader Ambati Rambabu on Tuesday, February 20, asked why Pawan Kalyan was behaving in a childish way by demanding that the party immediately move a no-confidence motion in Parliament when the YSRCP had already accepted the actor's suggestion to move the motion but as per its schedule — when it begins a rally in March.
YSRCP leader Jagan Mohan Reddy said at an event in Kandukur on Sunday that his party was ready to move the no-confidence motion in March because the Central government did not give special status to Andhra Pradesh.
He asked the Telugu Desam Party (TDP) support him. He also said his party would support the TDP if the latter moved the no-confidence motion.
On Monday, however, Jana Sena Party (JSP) leader Pawan Kalyan urged the YSRCP leader to move a no-confidence motion against the Union government immediately, saying he would support him to garner the numbers. This did not go down well with the YSRCP, and Ambati Rambabu called a press meet on Tuesday to respond to Pawan Kalyan.
Ambati Rambabu told reporters: "We accept his advice and we will move a no-confidence motion. But it needs at least 50 MPs' support and we have only five MPs. We have don't have the support of another 45 MPs. I ask him to talk to [Andhra Pradesh Chief Minister] Chandrababu Naidu and get his MPs' support for us. We will be happy to move it."
Rambabu also said that Jagan did not throw a challenge to anyone. "Pawan Kalyan said that he would accept the challenge of Jagan Mohan Reddy. But he [Jagan] did not make any challenge and you can see his speech on YouTube. He said that the actor should convince his ally [the TDP], who he campaigned for in the last election. However, Pawan Kalyan misinterpreted Jagan's statement."
He added: "Pawan Kalyan said that he would tour the country to gather support for the YSRCP. He asked Jagan to move the no-confidence motion immediately. What is this? We have our own schedule to do it. But he is asking us to do immediately. Why is he behaving in such a childish way?"
He also said: "You believe Chandrababu Naidu, but you don't believe us (YSRCP). Chandrababu Naidu spoke about it [no confidence motion] at an event yesterday. Don't you understand what he said? He said that moving a no-confidence motion will be futile. There is no hurry for it and you don't know the functioning of Parliament. You don't talk about the chief minister, but you only blame Jagan Mohan Reddy."