After months of evaluation, Sony has reportedly confirmed that it will not be able to release the KitKat update to the popular 2013 mid-range smartphone Xperia SP.
The news was confirmed (courtesy, Xperia Blog) by the company in the official software support page of Xperia SP, thus giving an anti-climax twist to loyal Sony fans, who agonizingly waited for close to 10 months to savour the sweet taste (read rich UI experience) of chocolate-wafer flavoured Android update on their Xperia SP.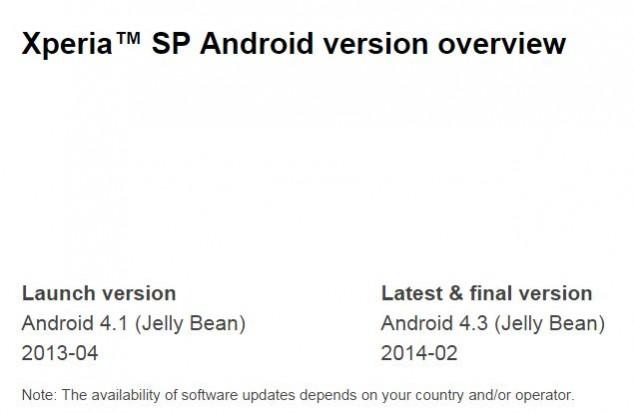 In late November 2013, Sony had given a glimmer of hope to Xperia SP (and also to T, TX and V) owners that the company is evaluating options to provide KitKat update, but now it's certain that this will never turn into reality.
Just a day (8 September) ago, Sony brought cheers to Xperia Z, ZR, ZL and Tablet Z owners by releasing the latest v4.4.4 KitKat update, but now the company's inability to provide software support for Xperia SP will invite strong reactions from fans. [Read the full report, HERE]
In late August, the company also ended the software support for Xperia E and E dual, but it seemed to be fair as the devices had just 512MB RAM. It would be difficult for Sony to upgrade it with KitKat and the custom UI.
The same issue of limited RAM capacity also forced Samsung to abandon KitKat update support service for Samsung Galaxy S3 (GT-I9300) and Galaxy S3 Mini (3G).[Read the full report HERE]
Now, it looks like Sony faced a similar conundrum for Xperia SP, which also boasts of 1GB RAM.