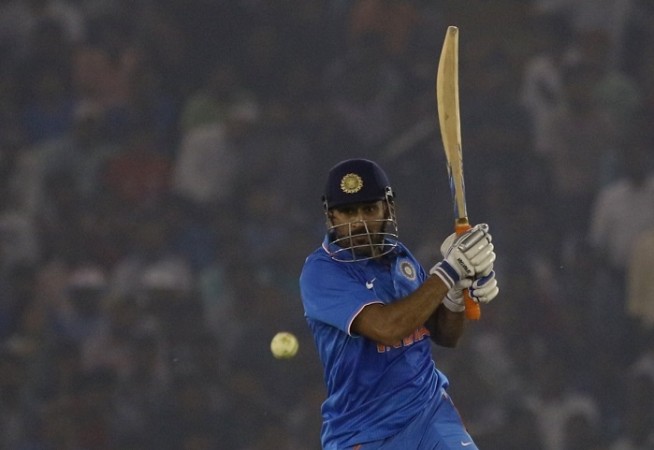 India limited-overs skipper MS Dhoni should continue playing in the No 4 position, feels former India cricket team hotshot Sourav Ganguly. The Ranchi-born cricketer, who was recently portrayed in the big screen in the Sushant Singh Rajput-starrer 'MS Dhoni: The Untold Story', played in a position higher than his usual No 5 batting order in two of the previous ODIs against New Zealand in India.
Dhoni scored 80 off 91 balls in the India vs New Zealand 3rd ODI and forged a great partnership with Virat Kohli, on way to the Men in Blue's 7-wicket win over the Kiwis in Mohali on October 23. The 35-year-old however couldn't shine in the fourth ODI in Ranchi as the batting unit failed as a whole to reach the target set by New Zealand, who as a result won the game by 19 runs to level the five-match ODI series 2-2.
Now, it looks very likely that ahead of the crucial and the all-important India vs New Zealand 5th ODI on Saturday in Visakhapatnam, Captain Cool would continue plying his trade in the No 4 batting position. Ganguly, for one, wants Dhoni to continue in that role.
"Let him play at number four. He will finish from there," the former India cricket team captain said at an event in Kolkata on Thursday. "Finisher does not mean he has to bat from the 40th over. Virat (Kohli) bats at three and he is finishing games. It's a wrong concept that a finisher has to come lower down the order. Dhoni got India over the ropes in the other match batting at four," Dada added.
Dhoni, himself, recently pointed out that batting at No 4 was something he was keen on trying his hand at for long as he claims he has the freedom to play the big shots early on. "It was something that I wanted to do for a long time, but if you are batting at No.5 or No.6, and especially when your top order is batting brilliantly, you don't get the chance to bat how you want to bat," he mentioned after India's win against New Zealand in the third ODI.
"Going at No.4, it was important to go and play the big shots. It was the first innings I played and I got runs, but it's not easy to come out of it so I could have taken a few more innings. So, it's good I got runs. If I'm successful at No.4, it gives the team a bit of a liberty because I'll try to score at a decent pace," Dhoni added.