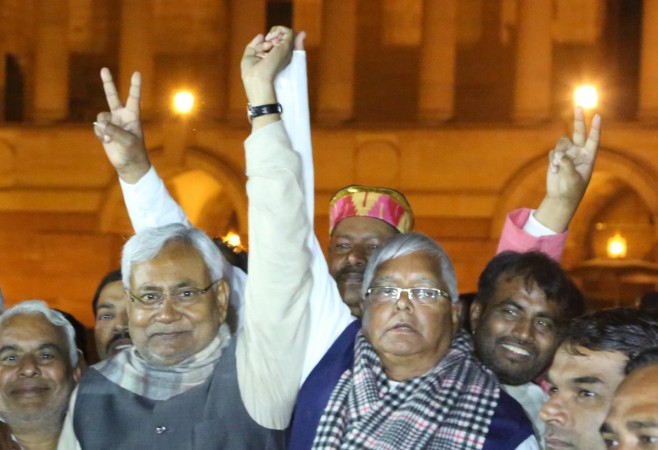 Narendra Modi, Rajnath Singh, Arvind Kejriwal, Mamta Banerjee, Ram Vilas Paswan, Omar Abdullah and a host of other leading politicians have congratulated Nitish Kumar and Lalu Prasad Yadav's Mahagathbandhan for their landslide victory in the Bihar assembly elections.
The assembly election in Bihar had been a focus of attention over the last few months. A lot had been written about the selection of candidates from different parties, campaigns and exit poll verdicts and results. Finally, Mahagathbandhan, the Grand Alliance of JD (U), RJD and Congress, has carved out a memorable victory.
Soon after the results were announced, a host of leading politicians called the leaders of Mahagathbandhan and congratulated them on their victory. Some of the leaders took to their Twitter pages to wish them.
Interestingly, it was Prime Minister Narendra Modi, who was the first to call Nitish Kumar to wish him. At 11.45 am, the PM tweeted, "Had a telephone conversation with Shri @nitishkumar & congratulated him on the victory." Meanwhile, Nitish also tweeted, "Just received a phone call from the Prime Minister congratulating me. .@narendramodi thank you Modiji."
Union Minister of Home Affairs, Rajnath Singh: Spoke to Shri @NitishKumar over the phone and congratulated him on his party's victory in Bihar assembly elections.
BJP National President Amit Shah: श्री नीतीश कुमार और श्री लालू प्रसाद यादव को बिहार विधानसभा चुनाव जीतने पर बधाई देता हूँ।
Union Minister and LJP founder Ram Vilas Paswan: बिहार मे महागठबंघन के नेता नीतीश कुमार को जीत की बधाइयाँ ।मैं आशा करता हू कि भविष्य मे वे जनता की आशा के अनुरूप काम करेंगे ।
Delhi CM Arvind Kejriwal: इस एतिहासिक जीत के लिए बहुत बहुत बधाई हो नीतीश जी
West Bengal CM Mamata Banerjee: Congratulations Nitish ji, @laluprasadrjd ji & full team. And all my Bihar brothers & sisters. Victory of tolerance, defeat of intolerance
Uttar Pradesh CM Akhilesh Yadav: Congratulations to Nitishji and Laluji on their historical victory.
Odisha CM Naveen Patnaik: Heartiest Congratulations Nitishji @NitishKumar for a spectacular hat trick win. I'm sure Bihar will march ahead under your leadership.
Karnataka CM Siddaramaiah: Congratulations to Shri @NitishKumar ji and the people of Bihar.
Former JK CM Omar Abdullah: Heartiest congratulations on a well deserved victory @NitishKumar sahib. Your victory will prove critical for the nation in the days ahead.
Ex Tamil Nadu CM Kalaignar Karunanidhi: Congrats @NitishKumar ji on your landslide victory, as expected. People of Bihar have voted for good governance!
Former Maharashtra CM Prithviraj Chavan: Congratulations to JDU, RJD, and Congress for the hard work and historic win in Bihar elections..!!! @NitishKumar #BiharResults
DMK leader MK Stalin: Congratulations to @NitishKumar Ji on the election victory. May the next 5 years bring prosperity & inclusive growth to the people of Bihar
BJP MP Giriraj Singh: I congratulate @NitishKumar ji, @laluprasadrjd ji &Bihar for the grand success.Our support is with you for the devlopment of Bihar.