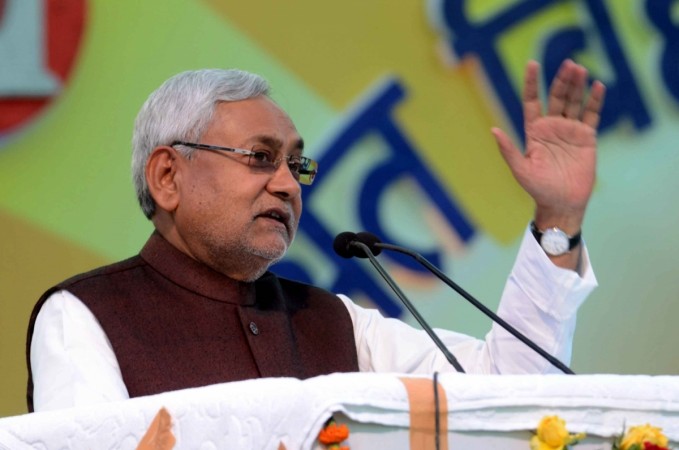 A youth has been arrested in Patna for allegedly threatening to kill Bihar Chief Minister Nitish Kumar, police said.
The accused has been identified as Pramod alias Poyoma, who hails from Patna's Fatuha district, Senior Superintendent of Police (SSP) Manu Maharaj told reporters.
According to the police officials, in a video which went viral on social media, Pramod threatened to kill Kumar in a bomb blast along with his bodyguards.
The SSP was quoted by NDTV as saying that as soon as the video went viral, the police initiated action and arrested Pramod.
Kumar was threatened on the same day when his convoy was attacked in Buxar.
The speculations made so far, over Pramod's death threat, have pointed out that the former was angered over the current sand crisis in Bihar. Pramod had suffered a loss in his business.
The investigating police officials have been interrogating the accused to find out why he posted the alleged video on social media.
The Bihar CM was in Buxar's Nandan village on Friday to spearhead the Vikas Kaaryon Ki Sameeksha Yatra, which undertook a survey of the developments in projects that he initiated a few years ago.
Kumar also launched projects worth Rs 396 crores in Kamur district.
Oppositions' Tejashwi Prasad Yadav pointed out that the CM should evaluate his character on political grounds and asserted, "The CM of the state was attacked, but no one has mentioned about 'maha-jungleraj' because the one who talked of jungleraj is not the deputy CM of the state."
Referring to the attack on Friday, Kumar alleged that "some people are pursuing the politics of provocation and instigation," and added that his governments' work for the state's development has been a hurdle for the people with selfish interests.