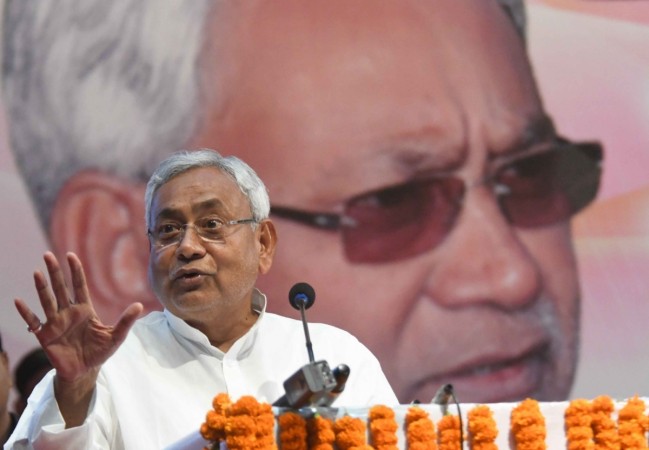 Bihar Chief Minister Nitish Kumar's convoy was attacked by a group of unknown assailants in Buxar on Friday, January 12. Kumar was on a visit to a village in the district as a part of his Vikas Kaaryon Ki Sameeksha Yatra.
Kumar escaped unharmed. Later in the day, in an address at Nandan village, the CM claimed that the attack was part of a plot by some people with vested interests.
"The incident took place when the convoy reached Buxar's Nandan village, where some locals started hurling stones at the vehicles. At least two security persons sustained injuries," a senior police official was quoted as saying by DNA.
The official added, "The window panes and windscreens of several vehicles were broken, interrupting the motorcade for a few minutes."
Here are certain details over the attack on Nitish's convoy and the political blame game which started amid reports of locals getting injured in the attack:
Kumar started his state-wide campaign on Friday following a review of certain developmental projects he had initiated a couple of years ago.
Kumar was on his way to Yadav-dominated Nandan panchayat in Buxar when a group of unknown people allegedly pelted the former's convoy with stones.
Some villagers were injured in the pelting incident.
Referring to the attack on Kumar, a local police official claimed that a few villagers had complaints about the developmental works in their area. In order to grab CM's attention and to show him the real situation, they started hurling stones at his convoy.
Kumar had also witnessed anti-government slogans by some contractual workers in an earlier rally.
Taking a dig at Kumar and his government, jailed former Bihar Chief Minister's son Tejashwi Yadav said, "The CM should evaluate his political character." He added: "The CM of the state was attacked, but no one has mentioned about 'maha-jungleraj' because the one who talked of jungleraj is not the deputy CM of the state."
"I am not the one who runs the government sitting in the state capital. I prefer to personally assess the ground realities and ensure that the basic amenities like roads, clean water and power reach every village and locality," an angered Kumar pointed out.
Kumar then alleged that he has been targeted by some people are pursuing the politics of provocation and instigation. He added that his governments' work for the state's development has been a hurdle for the people with selfish interests.
BJP Bihar chief Nityanand Rai said, "It seems some parties like the RJD are unable to practice politics of ideology and have to resort to violence."
Kumar laid the foundation stone for schemes worth Rs 168 crore in Buxar's Nandan along with another Rs 228 crore invested in over 60 schemes in Kamur district's Ahinaura village on Friday.