Prime Minister Narendra Modi did not probably realise that even before he could speak at the special event organised at the Parliament to usher in the goods and services tax (GST), a top-ranking member of his government's think-tank would debunk its potential to boost growth.
"When you see figures floating around that there will be 1-1.5 percent increase in GDP after implementation of GST. For God's sake, that is utter rubbish," NITI Aayog member Bibek Debroy said at a session during the GST Conclave organised by a news channel, news agency PTI reported.
The economist added that he will not, however, "contradict" finance minister Arun Jaitley and revenue secretary Hasmukh Adhia who have been claiming that the GST will boost economic growth.
Also read: Teething GST problems will be solved in 2 months, says CEA Arvind Subramanian
The 1.5 percent fillip to the economy, according to him, "was based on the model that the NCAER did in the course of the 13th Finance Commission's report for an ideal GST. We are nowhere near that ideal GST, this is just the beginning of a process."
His remark came a few minutes before Modi gave a speech at the Parliament about benefits to the economy from the implementation of the landmark indirect tax law, ranging from addressing regional imbalances in growth and relief from "tax terrorism", to making India an attractive destination for foreign investors.
"GST is a system that ends the imbalances in the country's trade. It also boosts the exports of the country. This system not only provides impetus to already developed states but also provides the opportunity to the backward states to develop," he said in his speech on Friday.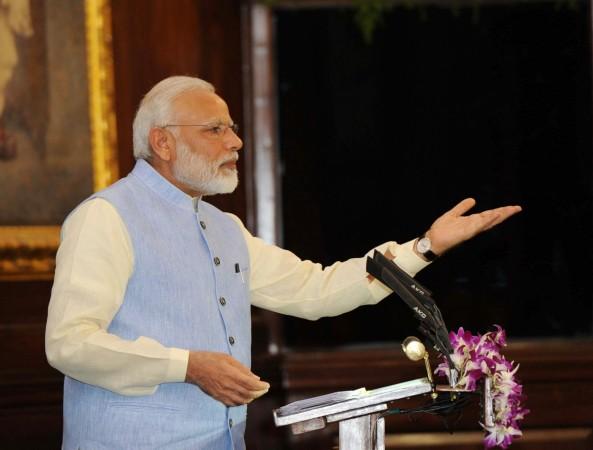 The Opposition was quick to latch on to Debroy's comment, with the main Opposition party Congress, tweeting his comment to embarrass Modi and Arun Jaitley.
"Now. Niti Aayog 'rubbishes' Govt's claim of GDP growth by GST. Describes GST as 'imperfect'. Any thoughts Mr. Jaitley?," Randeep S Surjewala, Congress spokesperson, tweeted.
The claims of a boost to GDP from the implementation of GST have come from many quarters, including industrialist Adi Godrej, who had, on many occasions, said it can add almost 2 percent to India's economic growth rate.
A few days ago, in a hard-hitting piece, The Economist had criticised the current version of India's GST. Modi has disappointed those who had great expectations of economic reforms from him once he came to power and the GST exemplifies it, according to the magazine. "...the GST is perhaps the most obvious example of an opportunity wasted."