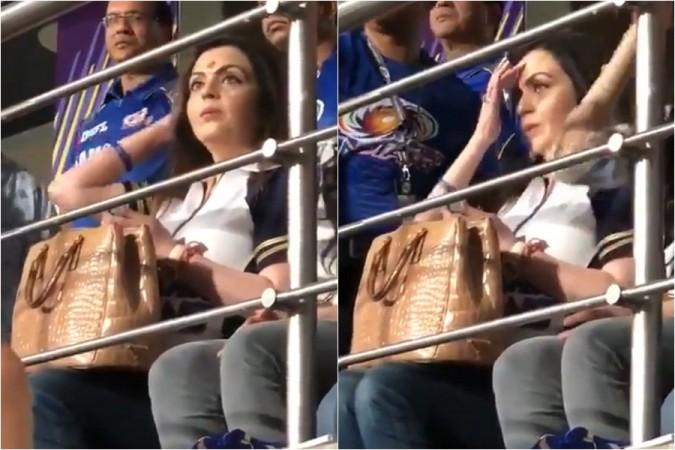 On Saturday (April 6), Mumbai Indians (MI) pulled off to a sensational 40-run victory over Sunrisers Hyderabad (SRH) while defending 136 in the ongoing Indian Premier League (IPL) 2019. Skipper Rohit Sharma heaped praise on Alzarri Joseph who recorded the best bowling figures (6/12) in the IPL history. But some online users feel that Nita Ambani's mysterious actions from the stands were responsible for Mumbai Indians' marvellous win. However, there is a glitch on the part of those netizens.
In a video that has resurfaced online shows Nita Ambani touching her eyes, her forehead and skull with her right hand middle finger while holding something in her left hand. Many thought that Nita was praying to God while watching her IPL team Mumbai Indians trying to defend their recent low scoring game. And as MI won the match, many felt that it was due to Nita's secret mantra that they pulled off the difficult task.
However, the truth is it is an old video from 2018 IPL. The video had gone viral last year when during one of the Mumbai Indian matches, Nita was seen performing the act. The video has resurfaced on social media, making many of the netizens believe it to be from the recent match.
Actually, it was Alzarri Joseph's sensational six-wicket haul that guided Mumbai Indians to a massive victory. Internet is indeed a tricky area, and that is why verification of pictures and videos has become quite important.
I'm an athiest. I don't even watch cricket.

But I'll bloody well pay my right kidney to know what her mantra is.

— آبشار | Aabshaar (@KaanPaachak) April 7, 2019