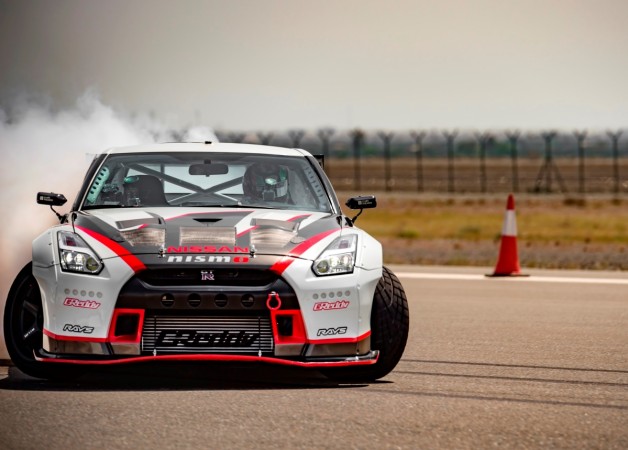 Nissan has set a new Guinness World Records for the fastest ever drift in the GT-R spots car. The specially-tuned 2016 model GT-R driven by Japanese drift champion and title holder for the Japanese drifting series, Masato Kawabata set the new record with a speed of 304.96kmph and 30 degrees angle at Fujairah International Airport, UAE.
Masato Kawabata with Nissan GT-R broke the previous record set by Polish rally driver Jakub Przygoński in Toyota GT86. Przygoński achieved an average of 218kmph in September 2013.
The record-breaking Nissan GT-R was developed with the assistance of Nissan's performance wing, Nismo specialists. The cart was tuned to produce 1380hp and all the power went to the rear wheels. The GT-R was prepared by GReddy Trust and tested at Japan's Fuji Speedway facility with Kawabata behind the steering wheel. GReddy Trust's technicians worked on the Nissan GT-R on site three days leading up to the event and had only three attempts to break the record as per guidelines set by Guinness World Records.
Meanwhile, the Japanese automobile manufacturer unveiled the new avatar of GT-R at the New York International Auto Show in March. Changes in 2017 GT-R focuses on five areas – exterior design, interior refinement, driving performance, ride comfort and advanced technology, according to the company. From a visual standpoint, 2017 Nissan GT-R flaunts the new V-motion grille, a matte chrome finish and an updated mesh pattern. Inside the cabin, the new GT-R features an instrument panel wrapped in hand-selected Nappa leather and a revised front seat design.