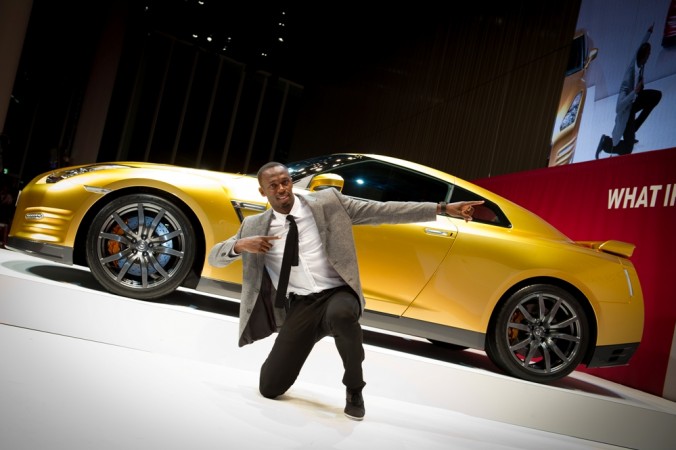 Japanese car-maker Nissan is all set to celebrate seven-time Olympic gold medallist Usain Bolt's 30th birthday on Sunday, Aug. 21. A campaign, dubbed as "Happy Bolt Day," to celebrate Bolt's historic career will feature integrated content and a fan-led social media activation.
Bolt's fans around the world are invited to imitate Bolt's famous lightning bolt pose on social media with the hashtag #HappyBoltDay.
"Usain Bolt has been pushing the limits and daring to go further his whole career," said Jonathan Adashek, Nissan's chief communications officer. "We wanted to celebrate this special moment in time and find a way to thank Usain for everything he has done for his fans over the last eight years," he added.
The Jamaican sprinter, who is also the Japanese automaker's Global Director of Excitement, is serving as an ambassador for Nissan's popular GT-R , one of the world's fastest sports cars. He owns a black as well as gold coloured GT-Rs, of which the golden one was gifted to Bolt after his triple gold medal performance at London Olympics 2012. Apart from GT-R, Bolt also owns Range Rover Autobiography, Ford Raptor and Subaru Impreza.
The 2017 Nissan GT-R has been confirmed for India launch at the Auto Expo 2016. The launch of the vehicle is expected early next year. Usain Bolt's India arrival during the India launch cannot be written off.