It's been over a week since the Cannes Film Festival began who's who from the films and fashion fraternity has been attending the prestigious red carpet,
Indian celebrates at Cannes have made head-turning appearances, fillmakers looked dapper in suits and tuxedos, while influencers dazzled in risqué outfits. If Indians made their mark globally, Few Hollywood celebs exuded elegance while some almost bared it all on the red carpet.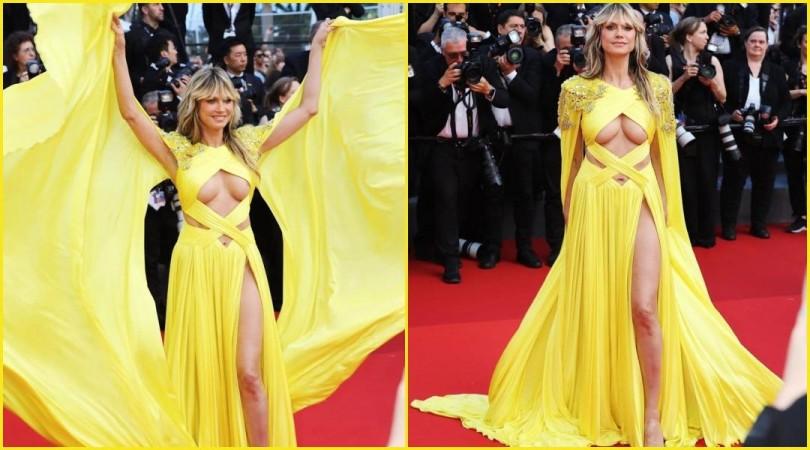 The model and America's Got Talent judge Heidi Klum looked vibrant when attending Wednesday's Cannes Film Festival premiere for La Passion De Dodin Bouffant – an 1885-set period piece about a French chef who falls in love with a cook on his staff.
The actor-model walked the carpeted stairs in a bright yellow Zuhair Murad Couture gown; she had a long trailing cape following behind her. The high-thigh slit all the way to her hip raised the hotness quotient on the red carpet. If this just wasn't enough, her body-baring cut-outs showed her flaunting her underboobs.
Heidi Klum's wardrobe malfunction
Klum almost escaped a wardrobe malfunction in the all-baring and daring ensemble. She had an almost-unnoticeable nip slip while posing for photos on the red carpet.
When Klum raised and lowered her arms to show off the flowing cape, a slight sliver of her nipple peeped out from the golden bodice. The model was unfazed by the wardrobe malfunction she smiled and posed for the media on the red carpet.
Klum showed off the look on her Instagram with a video, vibing to the tune of "Moonlight" by Kali Uchis, and captioning the short clip "CANNES ."
However, netizens weren't too impressed with her under boobs show and nipple sighting on the red carpet.
A user wrote, "Her cup shape is not perfectly shaped... the worst dress designer "
Another wrote, "Nipple sighting".
The third user commented, "The tries too hard. put your breasts away. ‍♀️"
The fourth user mentioned, "Lately what I do not understand about fashion is that so much fabric all over, tails, overly flowing skirts, capes, hoodies and shawls and yet the women who are wearing those styles are half naked."
However, Klum never shied away donning a showy design and flaunting a sexually liberated silhouette.