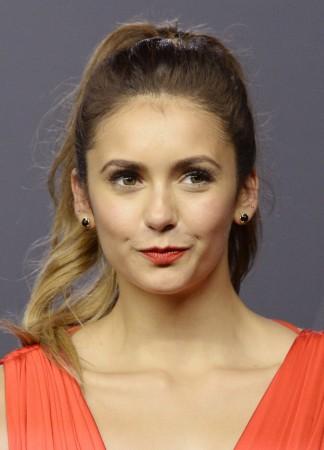 Bulgarian Canadian actress Nina Dobrev, who portrays Elena Gilbert on The CW's popular supernatural drama "The Vampire Diaries", turns 26 on Friday, 9 January.
Though the celebrity called-off her relationship with co-star Ian Somerhalder in May 2013, they are still the fan favourite.
The onscreen couple recently bagged the People's Choice Awards for Favorite TV Duo on Wednesday. They beat their competitors, including Supernatural's Jared Padalecki and Jensen Ackles as well as Castle's Nathan Fillion and Stana Katic, in the category.
But the celebs have found new partners in real life. While Somerhalder is expected to marry his lady love Nikki Reed any time soon, Dobrev is speculated to be dating Mark Foster.
However, the onscreen Elena Gilbert has always been celebrating her birthday with Somerhalder and their fans are eagerly waiting to see them together.
As of now, her birthday plans are still under wraps and it is not sure whether her ex-boyfriend Ian Somerhalder will be part of the celebration or not as the celeb is currently enjoying her holidays in New Zealand.
"The Vampire Diaries" star has uploaded the trip photos on Instagram, wherein she is seen enjoying with her friends.
She was born in Bulgaria as the daughter of Konstantin Dobrev and Michaela Dobreva. Her full name is Nikolina Konstantinova Dobreva. Before joining the cast list of The CW series, Dobrev appeared in several feature films, including "Fugitive Pieces", "Never Cry Werewolf" and "Away from Her".