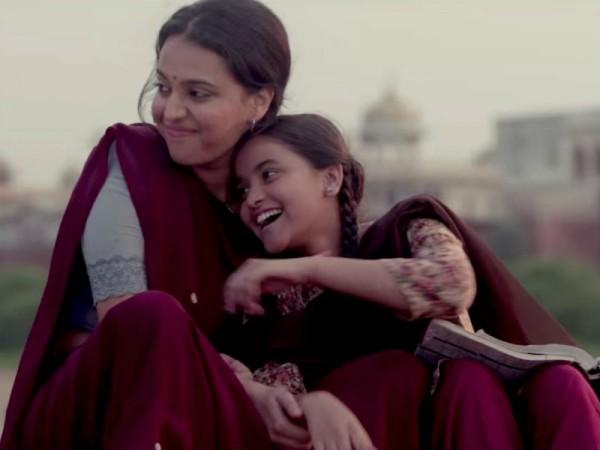 Director Ashwini Iyer Tiwari's Bollywood movie "Nil Battey Sannata," starring Swara Bhaskar, Ratna Pathak Shah, Pankaj Tripathi and Ria, has received positive reviews from the audience around the world.
"Nil Battey Sannata" is a family drama, written by Ashwini himself, which has an interesting story that has not been explored by Bollywood until now. The plot features Apu, a class 10 student who is giving up studies as her mother is not able to afford the expense. Apu thinks she will end up being a maid like her mother. What happens when her mother gets a chance to let her continue her education forms the rest of the story.
The audience says the story of "Nil Battey Sannata," which deals with the relationship between a mother and her daughter, is simple, realistic and entertaining. The screenplay is engaging and the climax is brilliant. Swara Bhaskar, Ratna Pathak Shah, Pankaj Tripathi and Ria have done brilliant jobs and their performances are the film's highlights, right alongside the wonderful script.
"Nil Battey Sannata" has been produced with a small budget by JAR Pictures and Colour Yellow, and yet the movie has managed good production values. Many viewers shared their verdict on their Twitter handles after watching the film. Here is the live update of "Nil Battey Sannata" movie review by the audience:
Taran Adarsh ‏@taran_adarsh
Watched #NilBatteySannata. Simplistic plot. Winsome content. Explores the mother-daughter relationship and carries a strong message... Ashwiny Iyer Tiwari is a proficient storyteller. Captures emotions remarkably. Brilliant climax. Super performances. #NilBatteySannata
Faridoon Shahryar ‏@iFaridoon
Rarely it happens that u wait 4 d end credits song 2 get completely over n then u walk out of the theatre..#NilBatteySannata is 1 such film! Ashwini Iyer has directed a beautiful little gem of a film with great writing (entertaining n poignant at the same time) #NilBatteySannata Thanks Aanand Rai saab 4 backng a brilliant film like #NilBatteySannata only a grt writer-director like u cud hav selflssly backed this gem! Swara entrtains wid her dialogue dlivry n yet a knife of despration slices u down. Art is in CONTRAST! Swara is an Artiste #NilBatteySannata If real life humor provokes ur interest, if grt acting inspires u, if u xpect More 4m cinema thn usual then #NilBatteySannata is a MUST WATCH!
Dr Kumar Vishvas ‏@DrKumarVishwas
What 3Idiots echoed with a huge setup u guys humbly whispered that more powerful in #NilBatteySannata @ReallySwara @aanandlrai @ashwinyiyer
Raghuvendra Singh ‏@raghuvendras
First, I would like to salute & congratulate to the beautiful pillars of #NilBatteySannata @Ashwinyiyer @ReallySwara & Riya Shukla. #NilBatteySannata is a heart to heart conversation. It's simple,honest,real & super entertaining. I couldn't stop smiling from start to end. .@ReallySwara is undoubtedly brave actor of our generation. I can't imagine anyone else playing mothers role in #NilBatteySannata. Congrats! Thank you @aanandlrai @cypplOfficial @krishikalulla @ErosNow for giving us #NilBatteySannata. Please make more such films. Loved it❤❤❤❤❤
Ɽαϲλίζ ₲μρζα ‏@radiochatter
#NilBatteySannata surprises you and leaves you with numb eyes. It'll make you want to hug your mother. Do not miss. Review soon @filmfare
RJ ALOK ‏@OYERJALOK
Simplicity is the Best ..#NilBatteySannata Simple n Impact full . Brilliant performance @ReallySwara #RiyaShukla @TripathiiPankaj #RjAlok
Parag Chhapekar ‏@paragchhapekar
#NilBatteySannata is suparbbbbbbbbb. its must watch. hats off @Ashwinyiyer brillent performance @ReallySwara and appu
Suman Sharma ‏@sumisharma31
Just watched #NilBatteySannata. @ReallySwara is unbelievably outstanding. Must watch movie for all the children's and all the parents. "Gareeb wo hote hain jinke paas sapne nahi hote." #NilBatteySannata.Superb movie, suprrb performance. Proud of u @ReallySwara @aanandlrai
Vicky Kaushal ‏@vickykaushal09
#NilBatteySannata pls pls don't miss this gem of a movie. Simple, honest and heart touching. Absolutely loved it!
Ashwini chaudhary ‏@DhoopAshwini
#NilBatteySannata is a GEM. Do yourself a favour. Go watch it @aanandlrai @ReallySwara
Keval Asher ‏@asherkeval
Review of #NilBatteySannata - A heartfelt, affecting, significant, parable hailing the power of woman
Asira ‏@Asira_Tarannum
This film will make you laugh and cry,so honest and real, go watch it guys @Ashwinyiyer @ReallySwara #PankajTripathi #NilBatteySannata